What embroidery editing software do you recommend?
We *highly* recommend Embrilliance Essentials Embroidery Software. It is user friendly and you can use our BX format fonts as "typable" fonts! There is a "free express" version available for JUST typing monograms and fonts. You cannot use the free version to merge, customize or edit.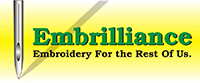 We highly recommend purchasing and owning some kind of embroidery editing software for maximum versatility. Please see our YouTube channel for numerous videos on how we use Embrilliance.
What software do you use to create your designs?
We use a variety of quality digitizing software packages to create designs, depending upon the desired effect. All designs are 100% manually digitized and tested as many times as necessary to provide you with the highest quality possible.
Can I resize your designs?
You may resize our designs in your embroidery editing software, but we do not recommend resizing more than 10-20% in either way in order to maintain the integrity of the design. We are UNABLE to do any custom resizing. Please note that if you choose to resize our designs, you do so at your own risk. We only guarantee the quality of the designs in the sizes we provide and test.
We do NOT recommend resizing sketch designs at all - most programs do not recalculate the variable density accurately, resulting in gaps and/or thick stitching. Please stitch any design with sketch elements at original size only. 
If you are looking for excellent embroidery editing software that is versatile and affordable, we HIGHLY recommend Embrilliance Essentials Software. You can also use our BX fonts with it!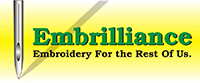 Why doesn't my embroidery design match the color chart sequence?
Some embroidery software programs, such as Premier+, have an automatic feature checked by default to "color sort" your designs.

It is very important that you become proficient in the embroidery software that you use. 

Some software programs are known to "color sort" your designs in an effort to be more "efficient". This can come in handy for your work...at times. This is NOT a good idea when you have purchased quality, manually digitized embroidery designs such as ours. Why? We digitize and pat...