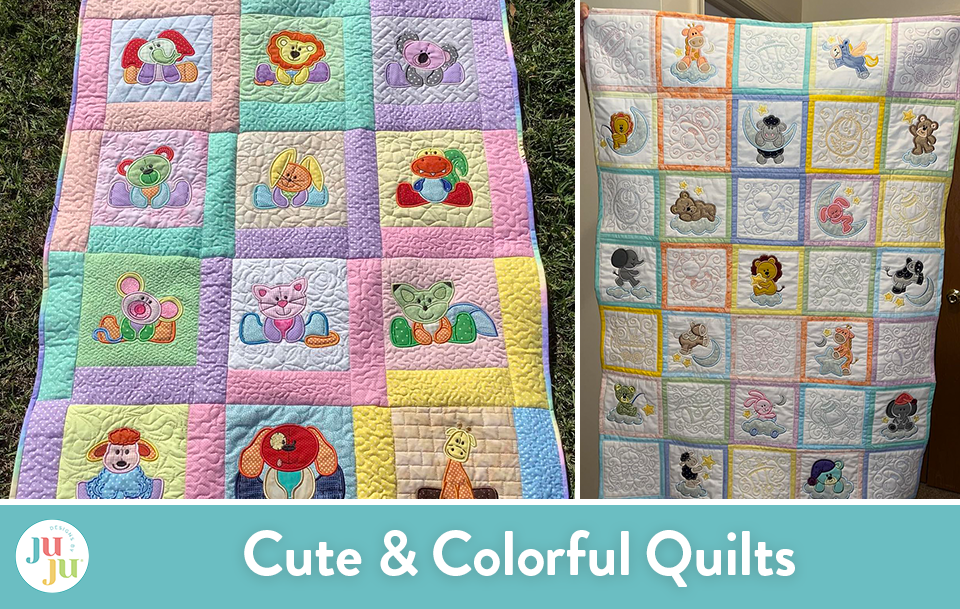 We LOVE seeing our customer's creativity shine through their projects. We've received so many amazing photos from our community showcasing their beautiful quilts customized with our cute and colorful designs. We wanted to share some of our favorite recent customer projects and give you a peek into the endless possibilities of what you can create with your next quilting project...
Quilt by Rita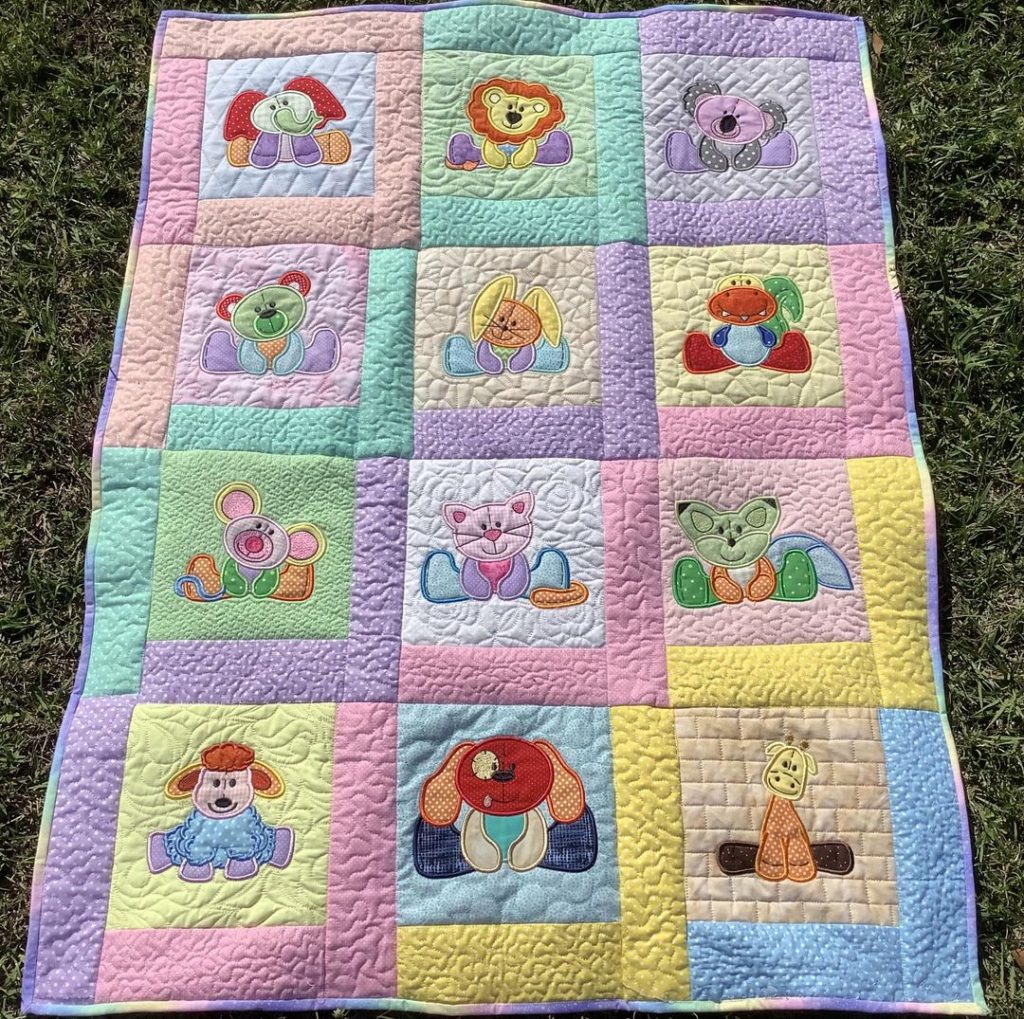 Look at all those colors! Rita's quilt is just gorgeous and would make a wonderful gift for any kiddo in your life. She used our 
Stuffed Animals Applique and Quilt Blocks
 design for this project. That design is an oldie but definitely a goodie! Thanks for sharing, Rita.
---
Quilt by Cheryl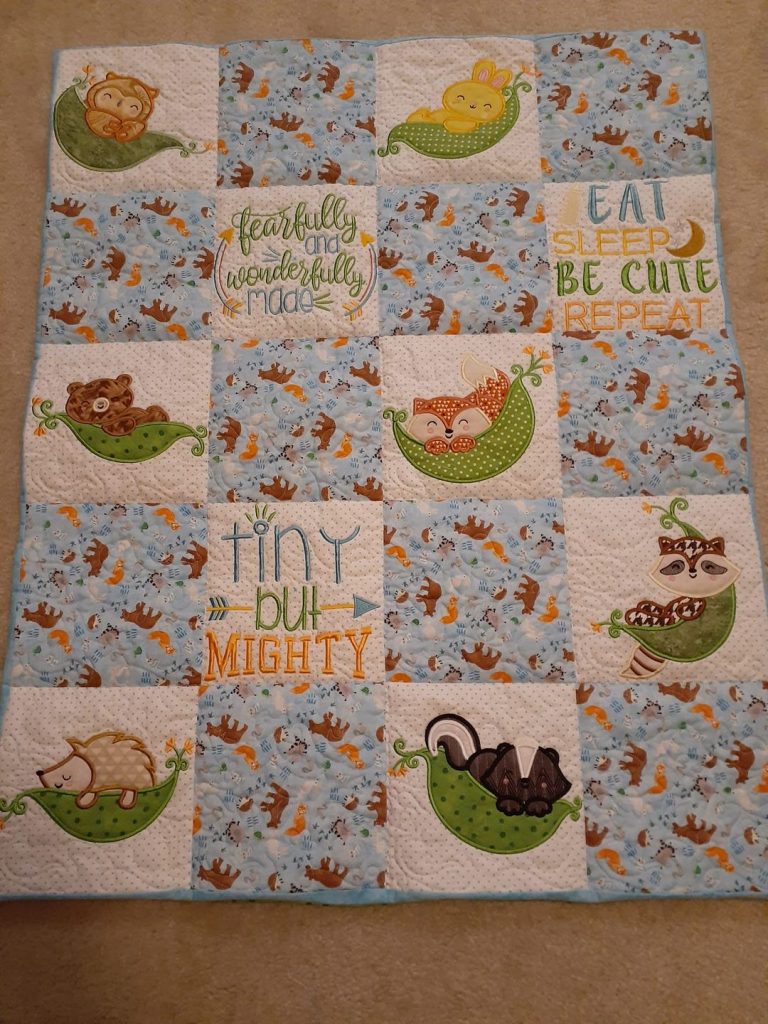 Next up is this quilt Cheryl made for her nephew's first baby. How stinking cute! Would you belive it was her first quilt?? It stitched out beautifully. Cheryl used our Baby Word Art Set 2, Woodland Pea Pods Applique, and End-to-End Quilting™️ Designs Forest Friends designs to complete this beautiful project. Great job, Cheryl!
---
Quilt by Donna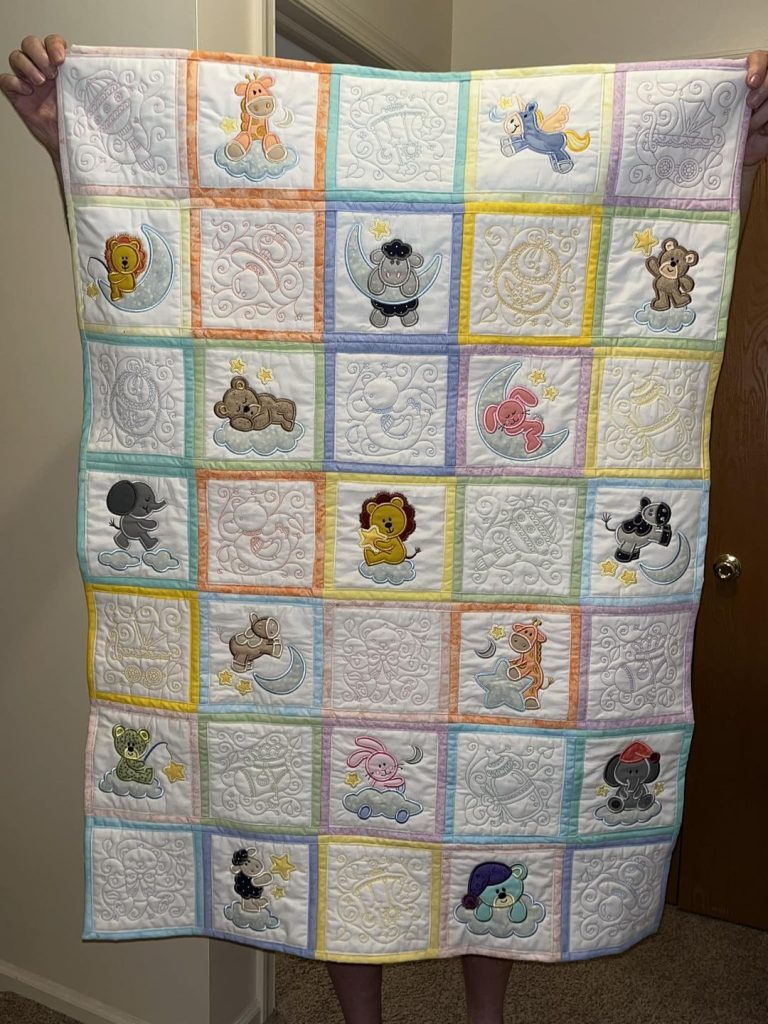 Lastly is Donna's colorful quilt. She stitched this out for her first grandnephew and we can't get enough! She used tons of our designs for this project including Sleepy Time Critters Appliqué Set 1, Sleepy Time Critters Appliqué Set 2, Nursery Quilt Blocks Set 1, Nursery Quilt Blocks Set 2, and Nursery Quilt Blocks Set 3. Thanks for sharing, Donna!
---
Send us your Projects
We can't wait to see what you've been working on. If you have a recent project you are proud of, please send us a picture or two! To submit projects for our showcase, or if you have any questions, please email:
[email protected]
.
Want more JuJu Inspiration?
Check out more Customer Projects blog posts 
HERE
Want The Sets You Saw?
Stuffed Animals Applique and Quilt Blocks Baby Word Art Set 2 Woodland Pea Pods Applique End-to-End Quilting™️ Designs Forest Friends Sleepy Time Critters Appliqué Set 1 Sleepy Time Critters Appliqué Set 2 Nursery Quilt Blocks Set 1 Nursery Quilt Blocks Set 2 Nursery Quilt Blocks Set 3