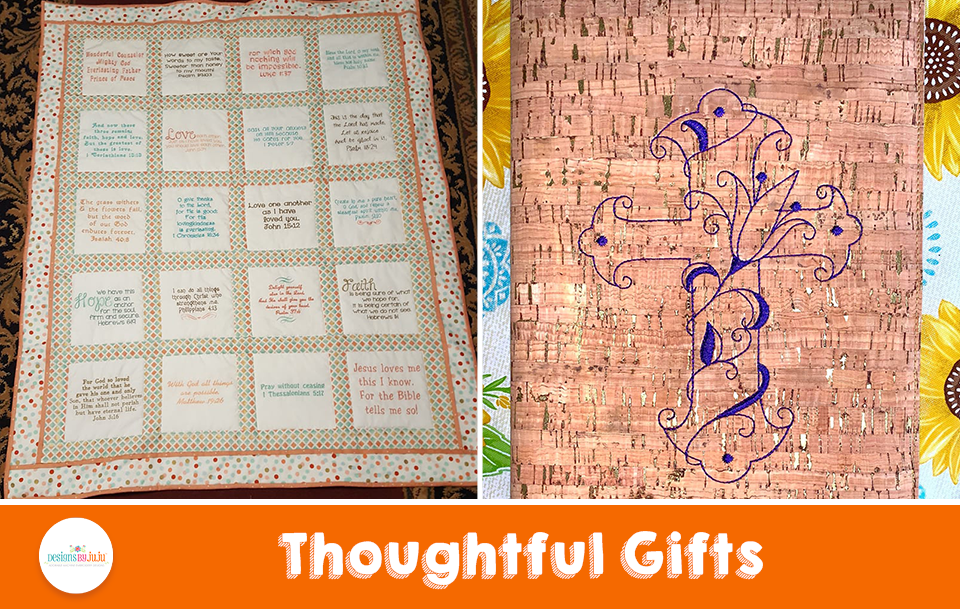 There's nothing we love more than seeing all of the thoughtful gifts our customers create for their loved ones. We receive SO many incredible gift project photos in our
Embroidery Blessings Facebook Group
 that we just had to write a blog highlighting a few of our favorites!! Keep reading to see the projects we think will give you some ideas for your next gift project…
Wall Hanging by Patti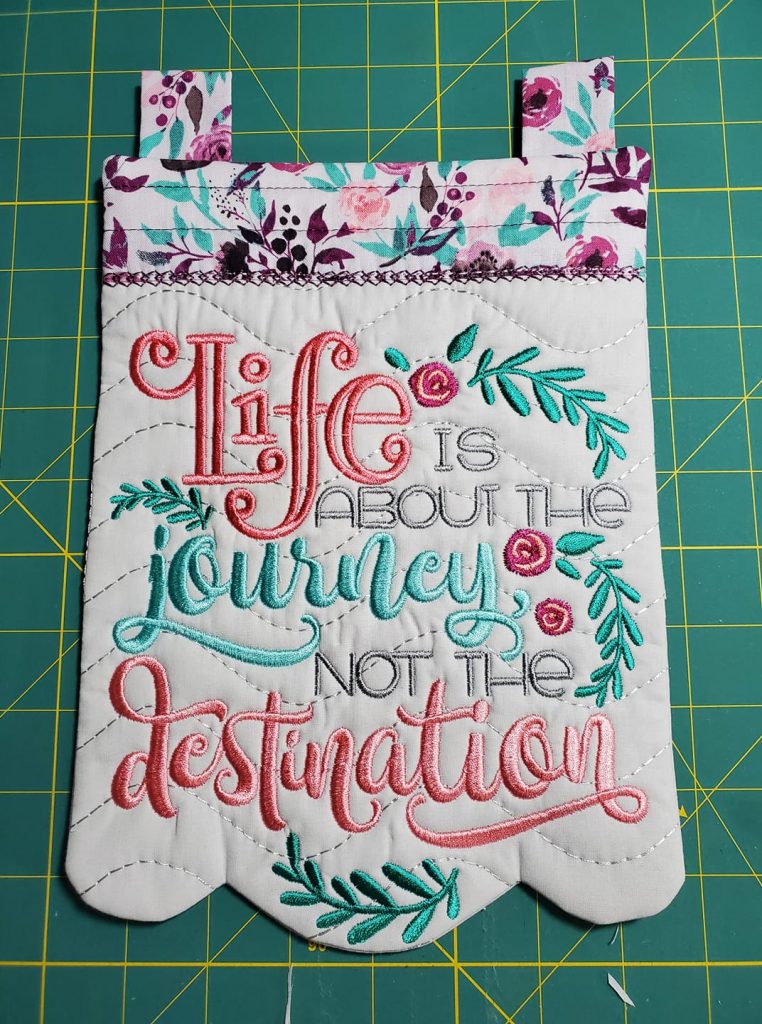 We can't get enough of this wonderful wall hanging Patti created as a gift for her friend using our In The Hoop Miniature Wall and Desk Decor Set 3! We love how the floral fabric she chose for the top of this piece perfectly complements the word art saying in this design. To top it all off, she used a gorgeous pastel color scheme for the word art. Amazing job, Patti!
---
Quilt by Sandy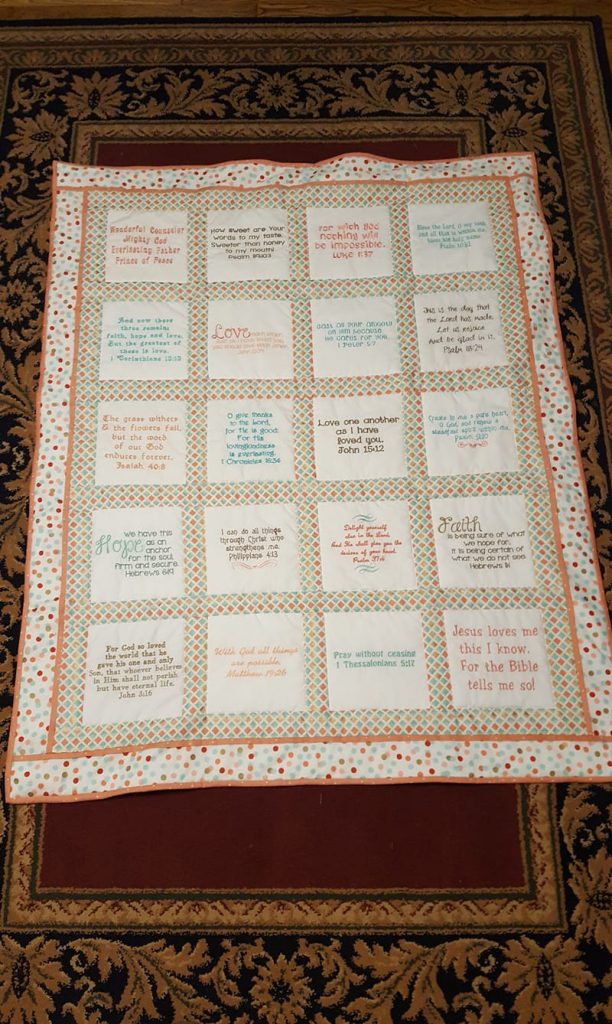 We absolutely love this heartwarming quilt Sandy created with her friend for her sister-in-law to take with her to chemo treatments. She used a bunch of our free Bible verse designs to bring this whole project together. How amazing is that? We love how all the verses she chose for her quilt blocks are positive and reassuring. Stunning job, Sandy!! Design sets used: 
1 Chronicles 16:34
, 
1 Corinthians 13:13
, 
John 15:12
, 
Luke 1:37
, 
Psalm 119:103
, 
1 Peter 5:7
, 
Psalm 118:24
, 
Isaiah 40:8
, 
Psalm 51:10
, 
John 3:16
, 
Hope
, 
PHILIPPIANS 4:13
, 
Psalm 37:4 Scroll
, 
Faith
, 
Matthew 19:26
, 
Pray Without Ceasing
, 
Jesus Loves Me
, 
Wonderful Counselor
, 
Psalm 119:103
---
Bible Cover by Rheta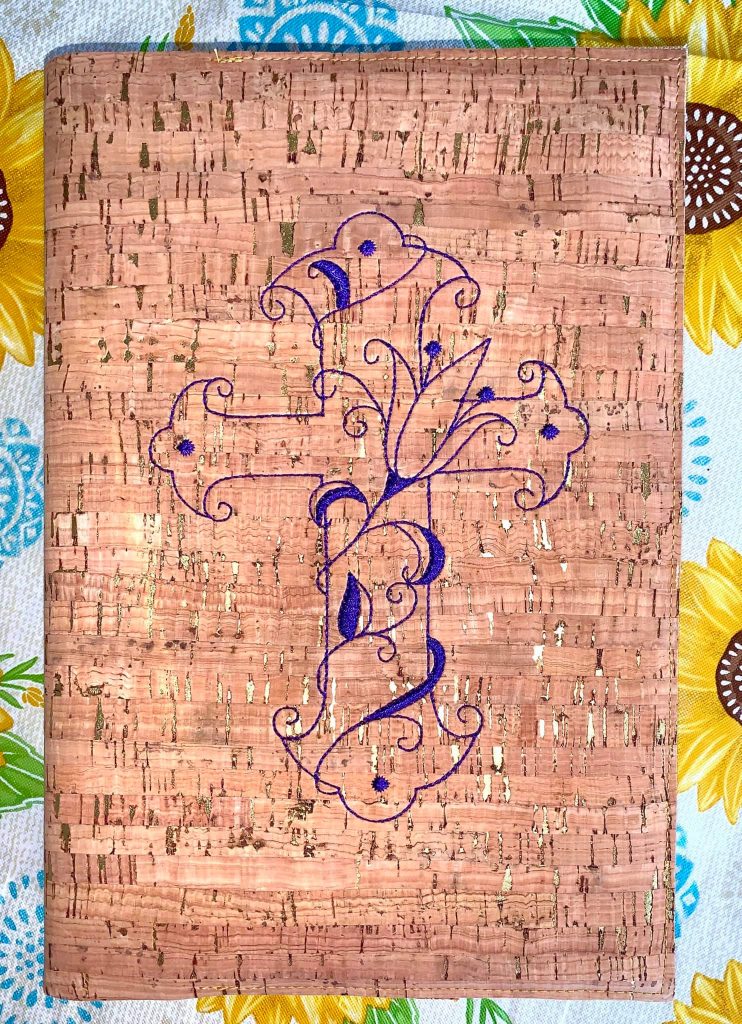 How creative is this Bible cover Rheta made by embroidering a cross from our Redwork Crosses set onto this cork fabric?? We love how the color she chose for the cross adds an elegant touch to the rest of the cork fabric. We just might have to try this idea out for ourselves! Wonderful job, Rheta.
---
Send us your Projects
We can't wait to see what you've been working on. If you have a recent project you are proud of, please send us a picture or two! To submit projects for our showcase, or if you have any questions, please email:
[email protected]
.
Want more JuJu Inspiration?
Check out more Customer Projects blog posts 
HERE
Want The Sets You Saw?
In The Hoop Miniature Wall and Desk Decor Set 3
1 Chronicles 16:34
1 Corinthians 13:13
John 15:12
Luke 1:37
Psalm 119:103
1 Peter 5:7
Psalm 118:24
Isaiah 40:8
Psalm 51:10
John 3:16
Hope
PHILIPPIANS 4:13
Psalm 37:4 Scroll
Faith
Matthew 19:26
Pray Without Ceasing
Jesus Loves Me
Wonderful Counselor
Psalm 119:103
Redwork Crosses