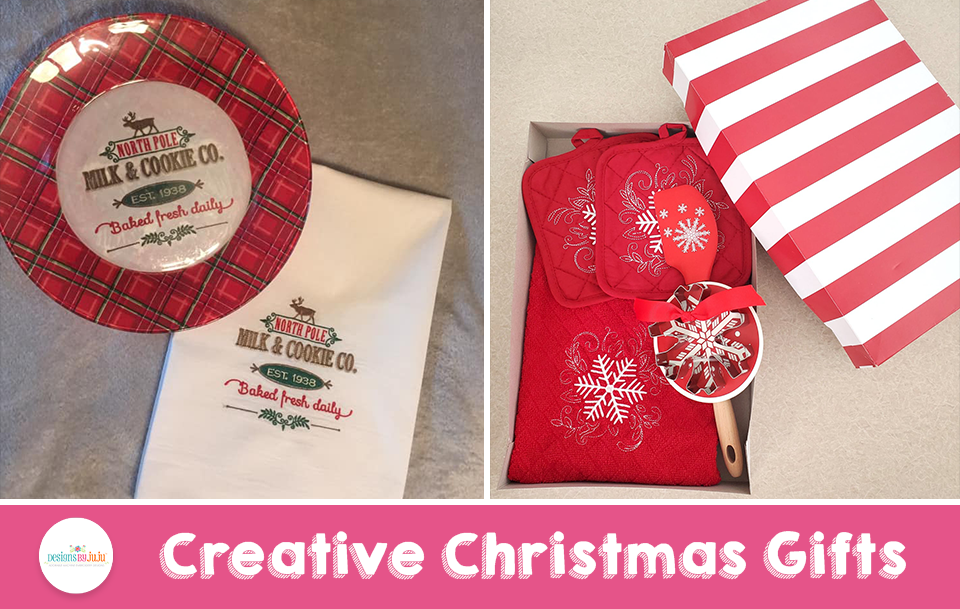 We cannot begin to tell you all how happy it makes us to see our customers creating gorgeously festive projects using our Christmas-themed sets! After seeing so many creative Christmas gift projects, we decided that we wanted to share some of our favorites to help inspire you with your Christmas gifts this season. Don't finish your Christmas gifts without seeing these first!
Towel & Plate by Terri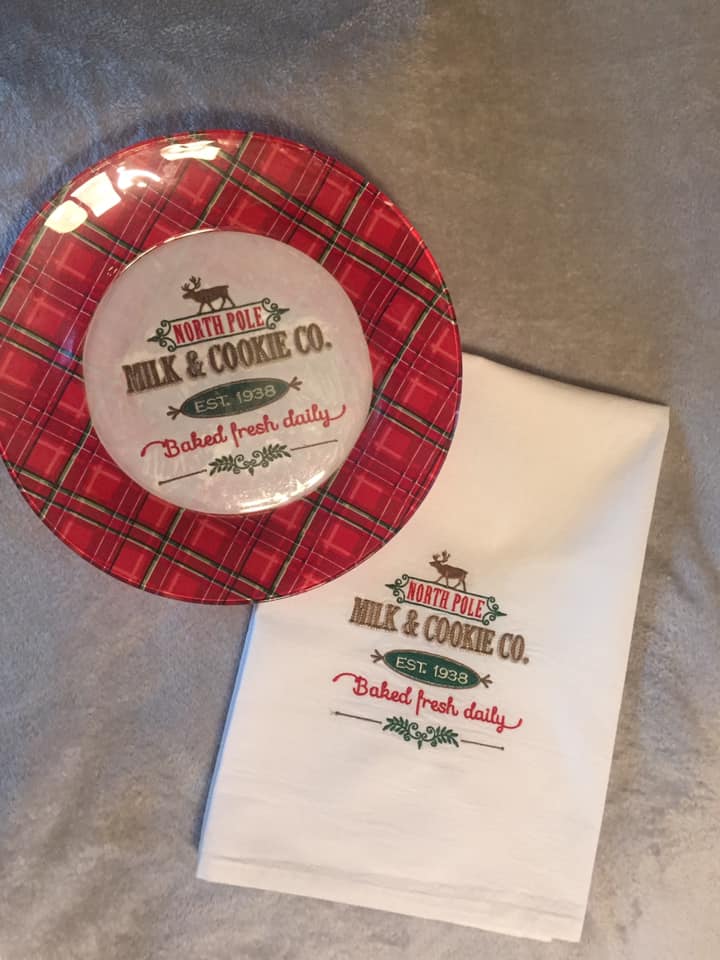 We love, love, love this creative Christmas-themed towel & plate set that Terri created using our September Blessings design from our Embroidery Blessings Facebook Group! To create the plate, Terri used dishwasher safe Mod Podge to seal the design, and the plaid fabric around it, over a glass plate! How cool is that?? We have a feeling this project is going to inspire a lot of people to try this out for themselves this Christmas season! Great job, Terri.
---
Dish Towels & Potholders by Linda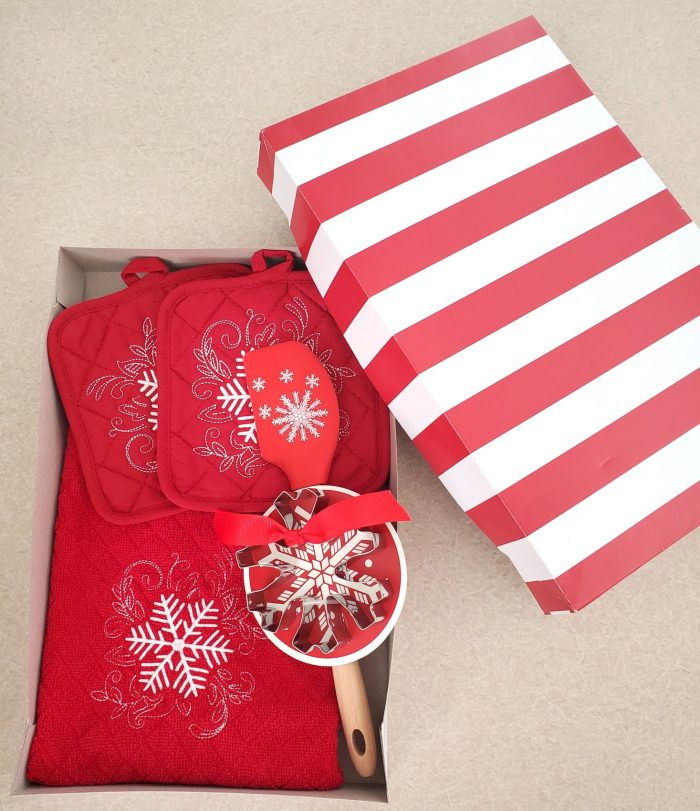 How precious are these Christmas dish towels & potholders Linda made using our Snowflake Motif set?? We absolutely love her stitchwork on the snowflakes! Plus, she even made sure the colors of the towels & potholders would match the spatula and cookie cutter. We hope your family loves these gift sets as much as we did, Linda!
---
Quilt by Linda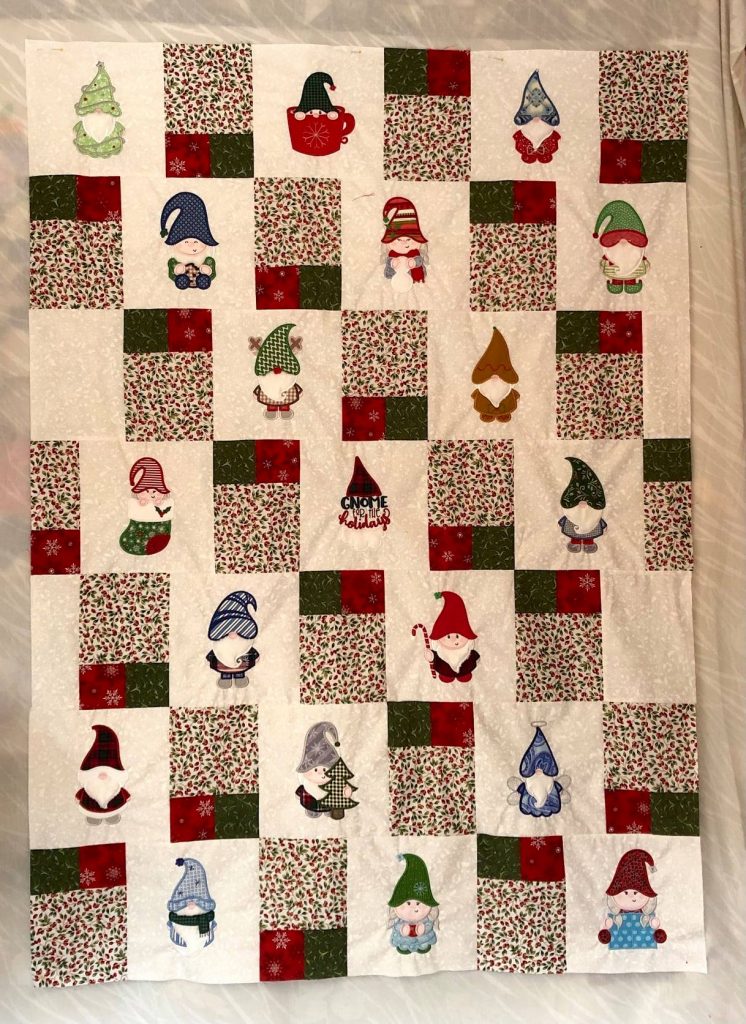 This quilt by Linda is almost too adorable! She used our Christmas Gnomes Applique 1, Christmas Gnomes Applique 2, and Christmas Word Art 8 sets to make this Christmas quilt for her cousin who loves gnomes & Christmas. Our favorite part about this project is that each quilt block features a new gnome that has different colors and patterns that set them apart from each other. To top it all off, Linda used the gnome-theme word art from our Christmas Word Art 8 as a centerpiece to bring the whole quilt together. Incredible job, Linda!
---
Send us your Projects
We can't wait to see what you've been working on. If you have a recent project you are proud of, please send us a picture or two! To submit projects for our showcase, or if you have any questions, please email:
[email protected]
.
Want more JuJu Inspiration?
Check out more Customer Projects blog posts 
HERE
Want The Sets You Saw?
September Blessings
Snowflake Motif
Christmas Gnomes Applique 1
Christmas Gnomes Applique 2
Christmas Word Art 8