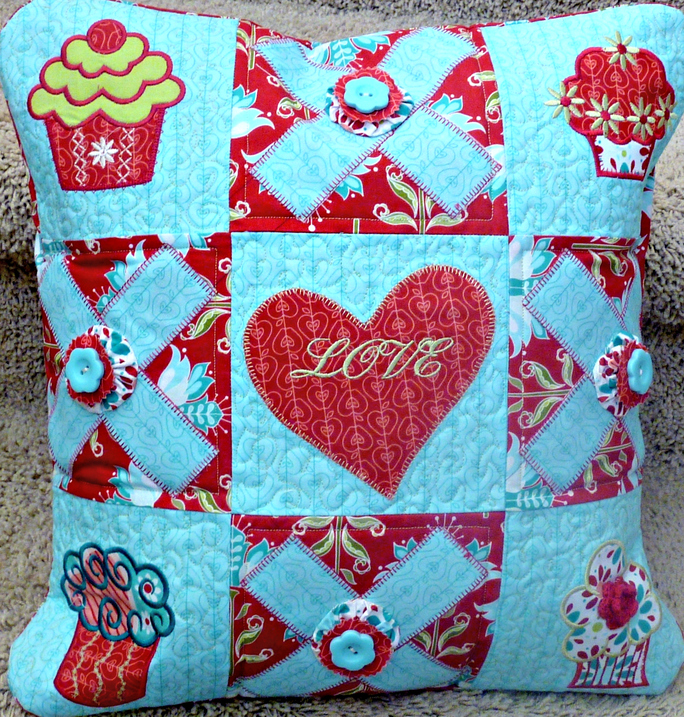 How To: Quilted and Embroidered Tic Tac Toe Cupcake Pillow
By Kim Hanson
Red and aqua with a dash of lime swirl together to make this sweet pillow a delightful project to welcome spring. Love and creativity blossom as you adorn your pillow with machine appliquéd cupcakes, embroidery embellishment and yo-yo's disguised as "puff cakes". Julie and I are excited to show you how to make a
Love
 pillow, which I call Tic Tac Toe … so here we go! Please be sure and read through all the instructions prior to commencing. It will make the project much easier for you.
---
Shopping List for Tic Tac Toe Pillow:

DOWNLOAD: Designs by JuJu Cute as Cupcake applique designs Fabrics (Shown on pillow cover – Riley Blake, Apple of My Eye fabric collection) Fabrics

Floral Red

 (

Fabric 1)

.8 yard

Apple Stripe Aqua

 (

Fabric 2)

.3 yard

Apple Stripe Red

 (

Fabric 3)

fat quarter (18"x22")

Apple Petals White/Red

 (

Fabric 4)

.6 yard

Apple Basket Aqua

 (

Fabric 5)

scrap

Pear

 (

Fabric 6)

scrap

Quilt batt

 - 

19" x 19"

Lightweight fusible web - 

17" wide

1 yard

Heavyweight stabilizer

 - 

20" wide

1 yard

Crocheted flowers -

1 small red

Aqua buttons

 - 

4

Pillow form

 - 

16" x 16" or 17" x 17"

Designs

Cupcake Embroidery Designs 

Embroidery Lettering –

LOVE.  Pretty Girls Scipt Embroidery Font 

or

Ralphie Brown Embroidery Font Other

Embroidery thread, embroidery needles, scissors, pinking shears

Pencil, omnigrid ruler

Hand sewing needle, thread and thimble

Spray starch

Spray temporary fabric adhesive

Templates Click HERE

to view Heart Template

Click HERE

to view Pillow Diagram

Click HERE

to view Puff Cakes Diagram
CUTTING
For Pillow top:
From Fabric 1:  
4 - 8" squares for block B
From Fabric 2:
5 - 8" squares for block A, centre block and 2 – 1½" x 42" strips (sub-cut into 8 - 6" pieces for "X" on block B)
From Fabric 3:
heart template for centre block, 4 – 1½" circles for puff cake centres (cut with pinking shears) and small pieces for appliqué as needed (Click HERE for the Heart Template)
From Fabric 4:
19" x 19" square for backing and 4 – 4½" circles for puff cakes and small pieces for appliqué as needed
From heavyweight stabilizer:
5 - 8" squares and 8 – 1½" x 6" pieces
Quilt batt:
19" x 19"
***Cut lightweight fusible web pieces as you go***
Ingredients to make a puff cake
:
(Puff cakes are a stiffer variation on a fabric yo yo.)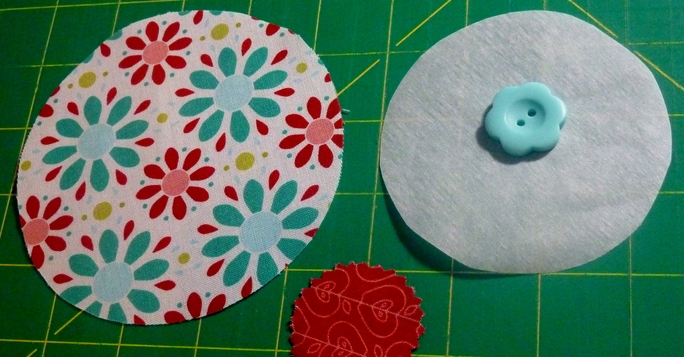 4½" circle of fabric
2½" circle of fusible web
1½" pinked circle of fabric
button
For Pillow back:
From Fabric 1: 2 pieces 17½" wide x 14¼" long
CONSTRUCTION
Block B
Match "X" aqua pieces measuring 1½" x 6" with corresponding piece of heavyweight stabilizer. Fuse the stabilizer to the fabric piece using fusible web. Fold red block B in half diagonally and press.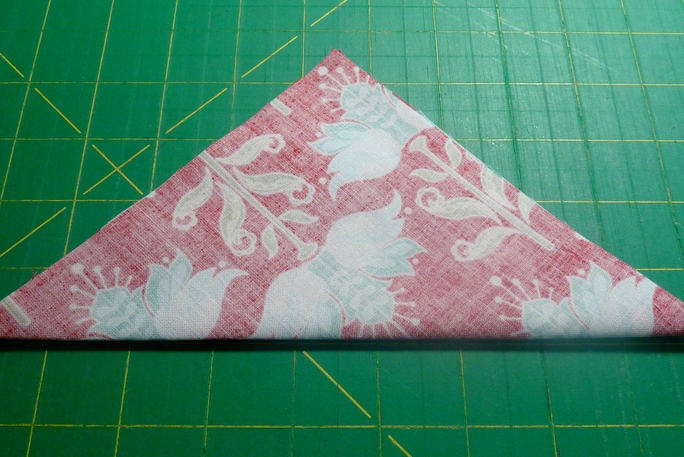 Open square and draw two pencil marks ½" on either side of centre dividing line. Repeat for diagonally opposite side. Fold aqua strip in half lengthwise and match up
centre folds
.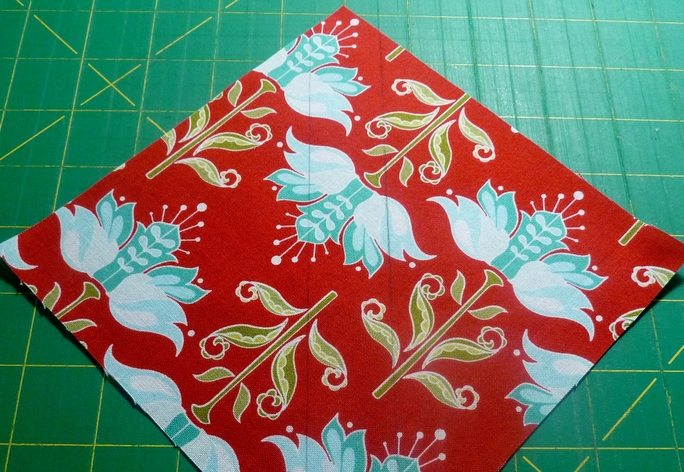 Align, centre and pin one aqua strip. Stitch around the perimeter of the strip using a machine blanket or appliqué stitch.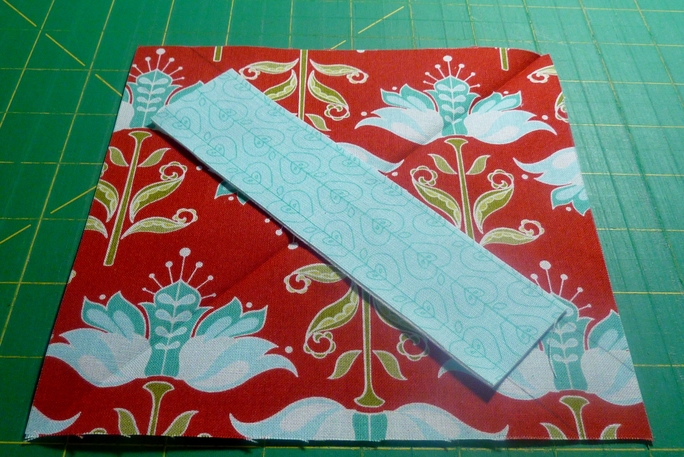 Centre intersecting aqua strip on top of first strip to create an "X". Stitch around the perimeter of the second strip.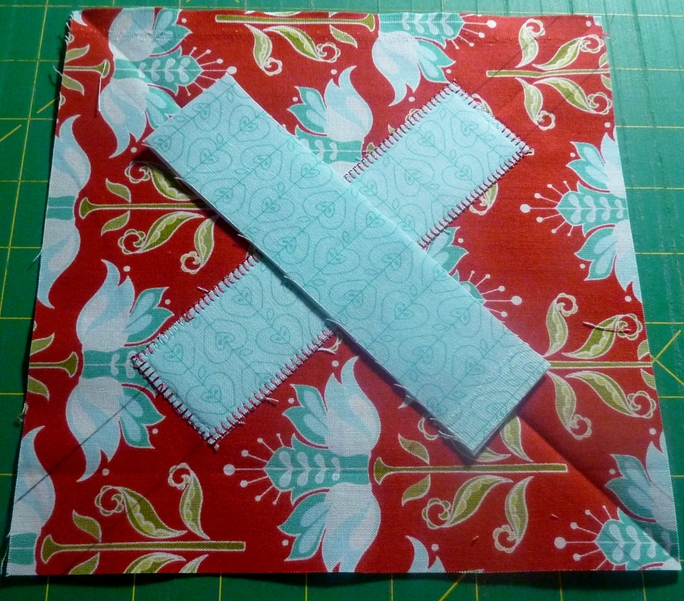 Press block and trim to 6½" square. Erase any remaining pencil marks. Repeat for other three block B's.
TIP:  When trimming the blocks to 6½" square, be mindful to trim small amounts from EACH side of the block, so that the design is centered.
Centre Block
Using fusible web's manufacturers instructions, fuse the heart to the centre of 8" aqua square. Stitch around heart outline using blanket or appliqué stitch to secure.
Set aside for machine embroidery.
MACHINE EMBROIDERY APPLIQUE
Block A
Download the cupcake appliqué designs. Using the small size, load the first cupcake design into machine. Hoop 8" aqua block A together with 8" square of stabilizer and place the hoop onto the machine.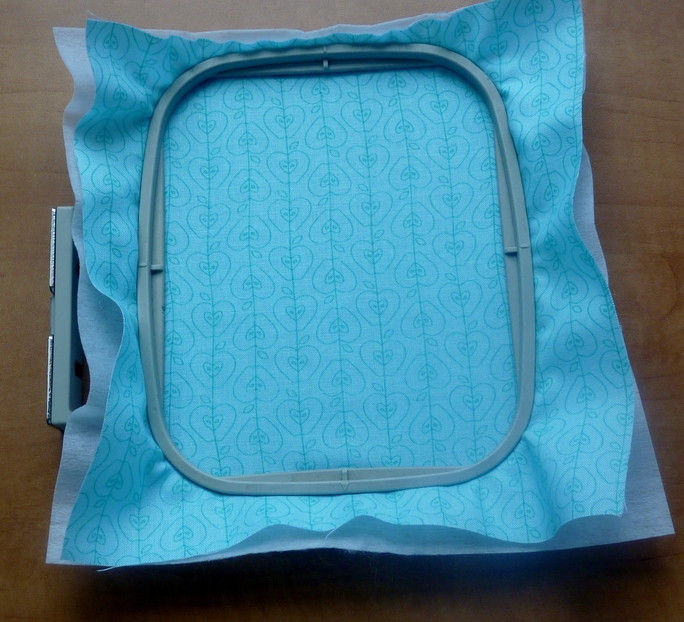 Centre embroidery design. Stitch outline of first part of the design.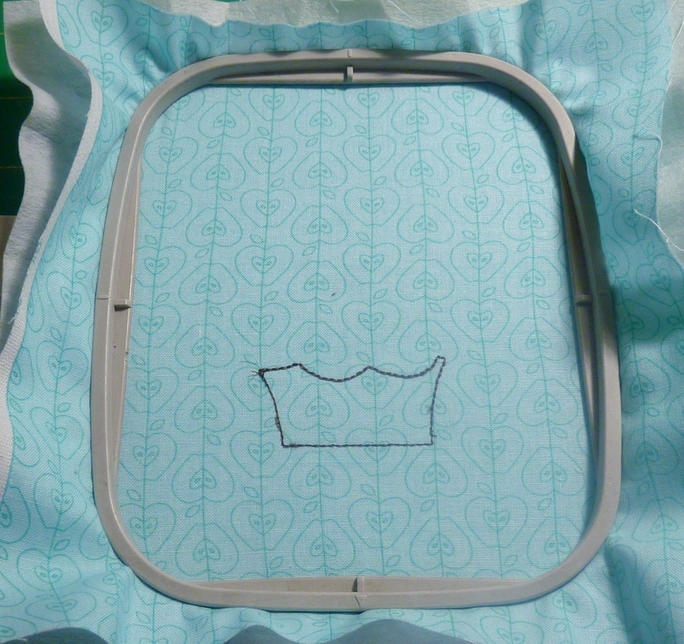 Remove hoop from machine.
TIP: Cover ironing board with towel or cloth to prevent overspray.
Cut a piece of Fabric 4 slightly larger than outline stitching. Lightly spray starch fabric scrap and press. Lightly spray wrong side of fabric scrap with temporary fabric adhesive. Place the fabric scrap over the outlined stitching area and pat gently to smooth and adhere. Replace hoop on the machine. Stitch tacking stitches and remove the hoop from the machine. Carefully clip around the stitching as close to the stitch line as possible.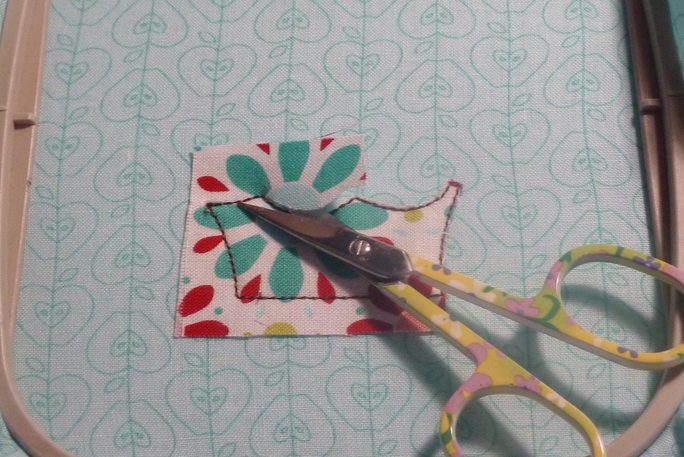 Return the hoop to the machine and continue to stitch out the design.
Stitch out three more cupcake appliqué designs in the same manner to make four block A's. Trim all block A's to measure 6½" square. Hoop the centre block heart and an 8" square of heavyweight stabilizer.  Download the word "LOVE" and transfer to machine. Centre design and stitch.  Trim block to measure 6½" square.
CONSTRUCTION
Lay out all nine blocks as per
Pillow Diagram
. Stitch blocks together to form pillow top, using a ½" seam allowance. Press seams in the direction as per the arrows in diagram. Make a quilt sandwich; place right side of pillow top down on a flat surface. Spray lightly with fabric adhesive and carefully layer the quilt batt on top and smooth. Spray the quilt batt lightly and layer on pillow top backing.  Pin if needed. Quilt as desired. ( I have used an all over free motion quilting style on Block A and simple outline quilting on Block B) Trim pillow top to measure 17¼" x 17 ¼". Hand stitch crocheted flower in place on block 9.
PUFF CAKES
Make 4 puff cakes as follows:  (See
Puff Cake Diagram
and photos of Block B) Place 4½" circle of Fabric 4 right side down on ironing board. Centre 2½" circle of fusible web and press to adhere.
Do not peel off fusible web paper backing
. Thread your hand sewing needle with a double strand of thread and knot. Fold over raw edge of fabric circle ½" and begin to hand stitch seam, gathering fabric as you go. Pull thread taut and finish stitching the circle. Knot thread securely.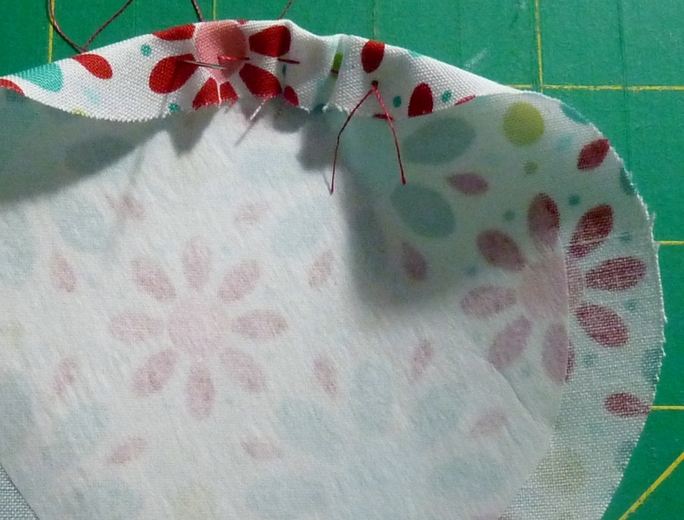 Press to flatten circle slightly. Centre 1½" red circle over puff cake and stitch the aqua button in place on top. Hand stitch the puff cake to the centre of the "X" on all block B's.
Pillow Back:
On both pillow back fabric pieces, turn one edge under ½" lengthwise and press. Turn edge under an additional 1" and stitch to seam. Right sides together, lay one back piece over pillow top, lining up bottom edge. Right sides together, lay the other back piece over pillow top, lining up top edge.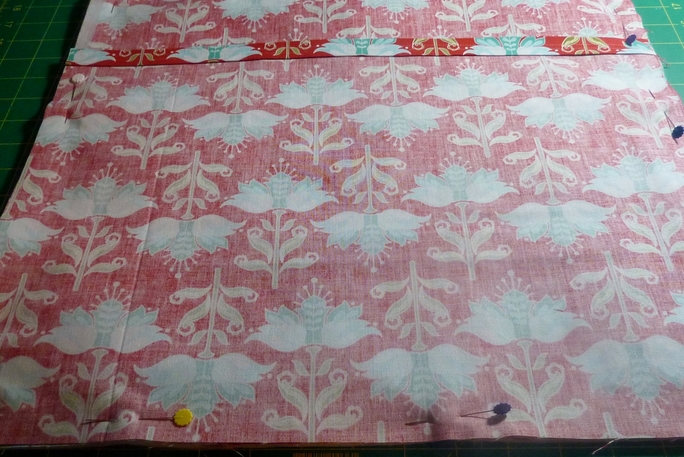 Pin. Stitch pillow top and pillow back together ¾" from outer edge.  (I rounded the corners on the pillow. If you choose this option, trace rounded corners onto pillow back prior to stitching.) Trim and turn pillow cover right side out. Insert pillow form.
Toss your new pillow in your favourite chair. You will
LOVE
 it.
If you have any comments or questions, please email me directly at
[email protected]
.  Thanks!
---