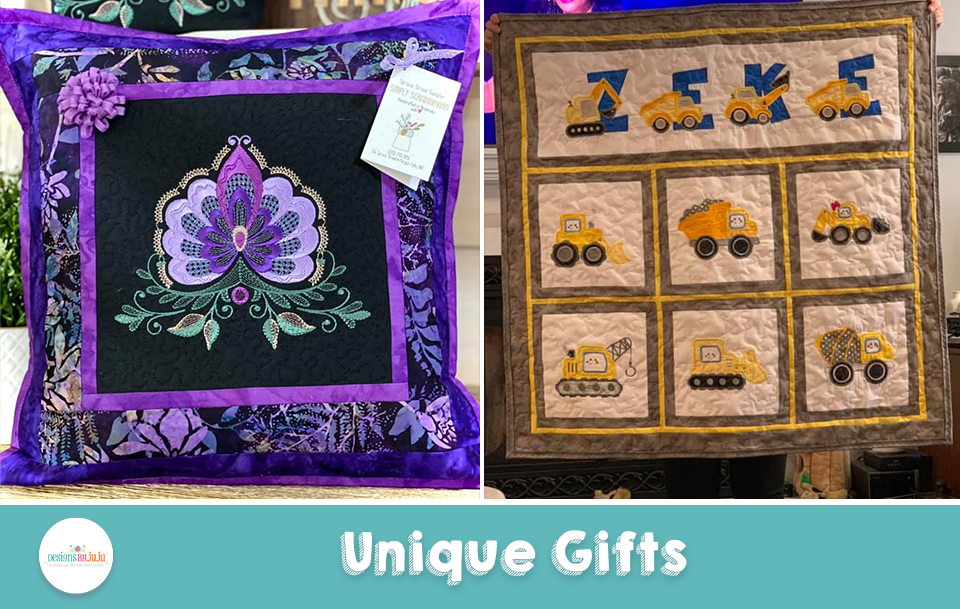 Trying to find ideas for a unique gift project? Look no further! We received SO many unique gift project photos from our customers in our Embroidery Blessings Facebook Group that we just had to write a blog highlighting a few of our favorites!! Keep reading to see the projects we think will give you some ideas for your next gift project…
Quilt by Debby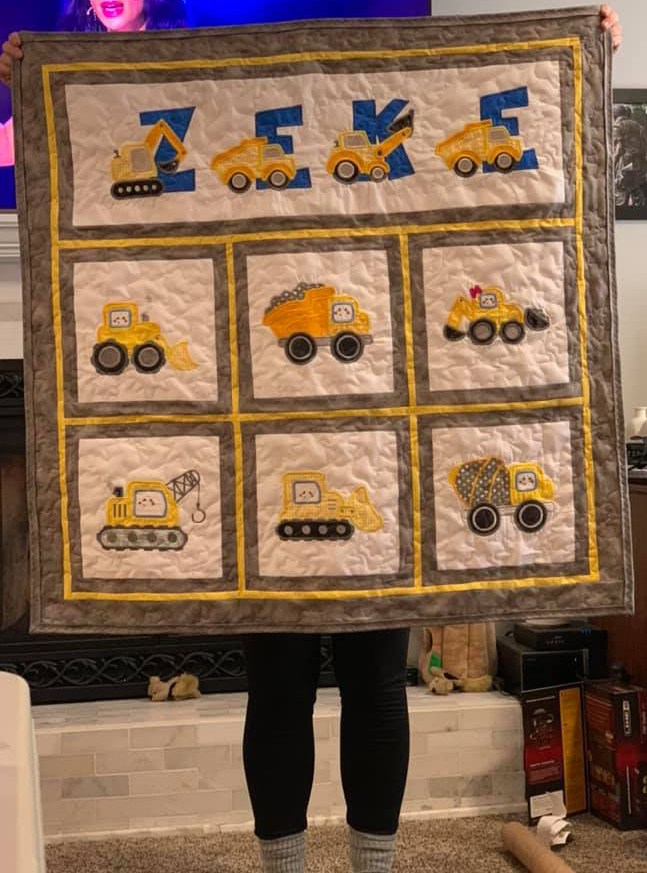 This quilt is simply too cute! Debby used designs from our Construction Applique and Construction Applique Alphabet sets to make this adorable quilt. We love how she used a different design as the centerpiece for each quilt block! Plus, she even used fabric for the border of the quilt that matched the colors of the designs to help tie it all together. We always love seeing cute quilts like this, thank you for sharing Debby!
---
Pillow by Connie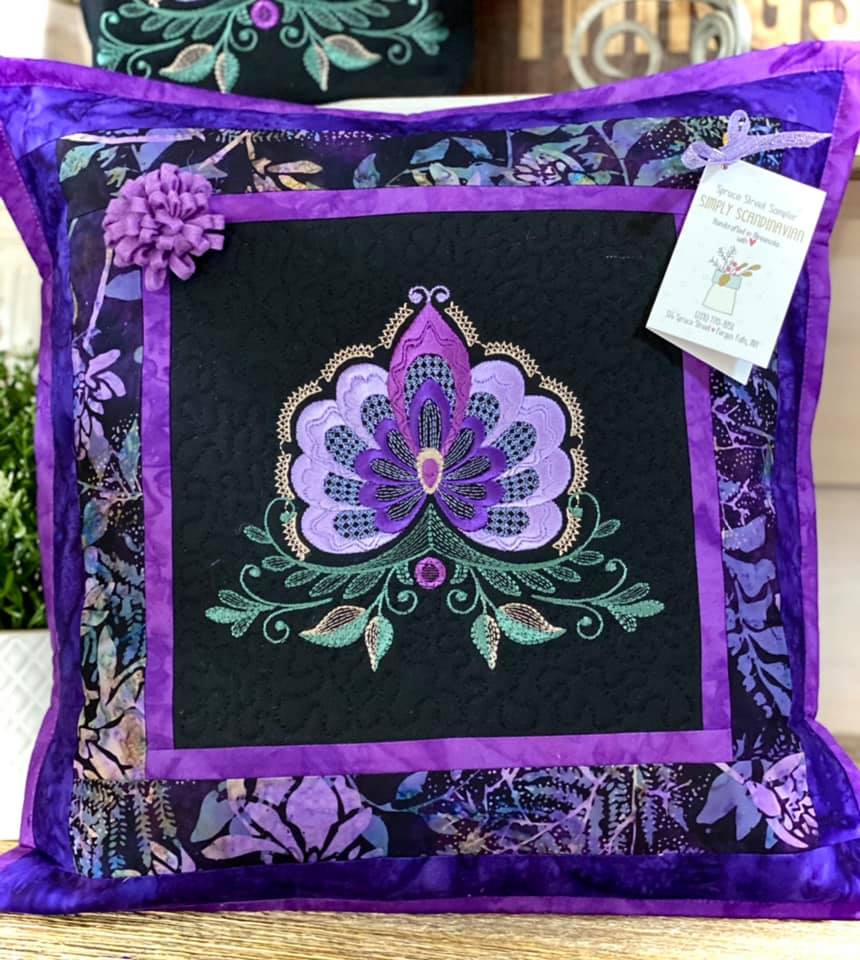 We can't get enough of this gorgeous pillow Connie created using our Scandinavian Floral 2 set! The lovely purple color scheme she chose for this pillow immediately caught our eye. Connie did an amazing job making sure the colors of the flower from our Scandinavian Floral 2 set matched perfectly with the colors throughout the rest of the pillow. Not to mention, she also used a beautiful floral-themed fabric as a border to surround our design. Every time we look at this photo, we fall in love all over again with the colors and patterns that she used!
---
Fabric Basket, Placemats, & Towels by Jennifer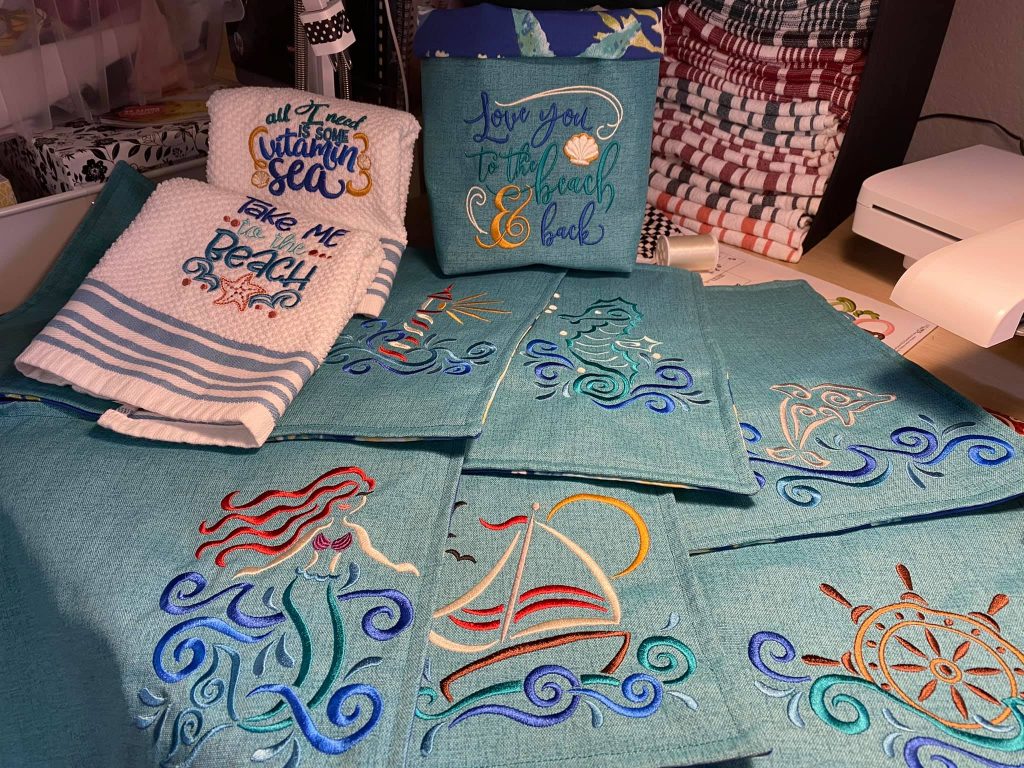 How precious is are these beach-themed birthday gifts Jennifer made for her mother?? She used designs from our Swirly Nautical set & a few of our Beach Word Art sets to create this matching set of towels, placemats, and a fabric basket! We love how she used the same fabric for the placemats and the outside of the fabric basket to make sure they looked like part of a matching set. Plus, she even used the same color scheme for all of our designs across every piece to bring the whole set together. We loved everything about this set and we hope your mother loves it too, Jennifer!
Designs used in this project: Swirly Nautical, Beach Word Art 2, Beach Word Art 3, Beach Word Art 5
---
Send us your Projects
We can't wait to see what you've been working on. If you have a recent project you are proud of, please send us a picture or two! To submit projects for our showcase, or if you have any questions, please email:
[email protected]
.
Want more JuJu Inspiration?
Check out more Customer Projects blog posts 
HERE
Want The Sets You Saw?
Construction Applique
Scandinavian Floral 2
Swirly Nautical
Beach Word Art 2
Beach Word Art 3
Beach Word Art 5