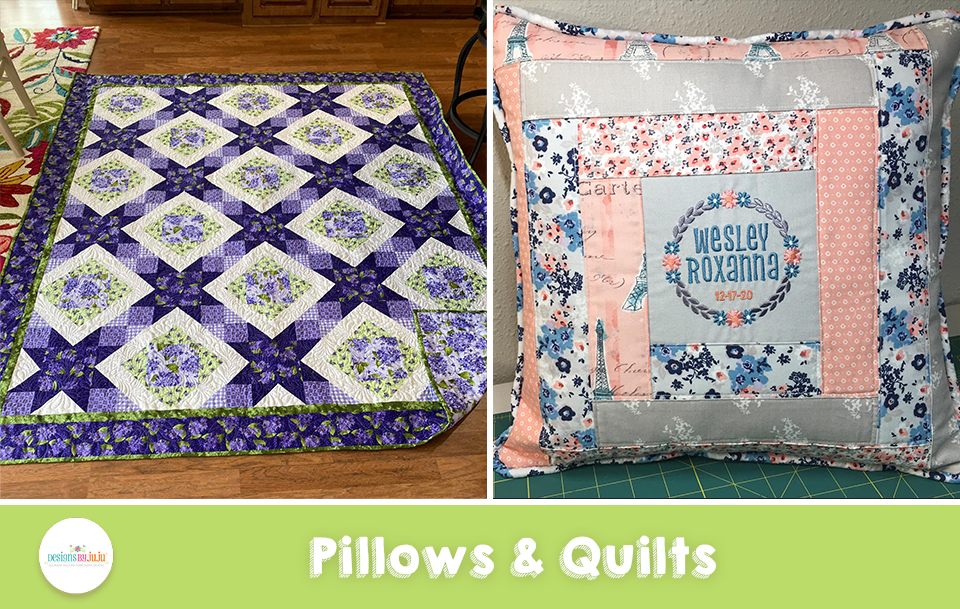 Getting ready to start the next quilt or a pillow for someone in your life?? Check out this blog before you start! We've seen so many incredible quilts & pillows recently that we wanted to share a few of our favorites with you to give you some inspiration for your next project.
Pillow by Sheryl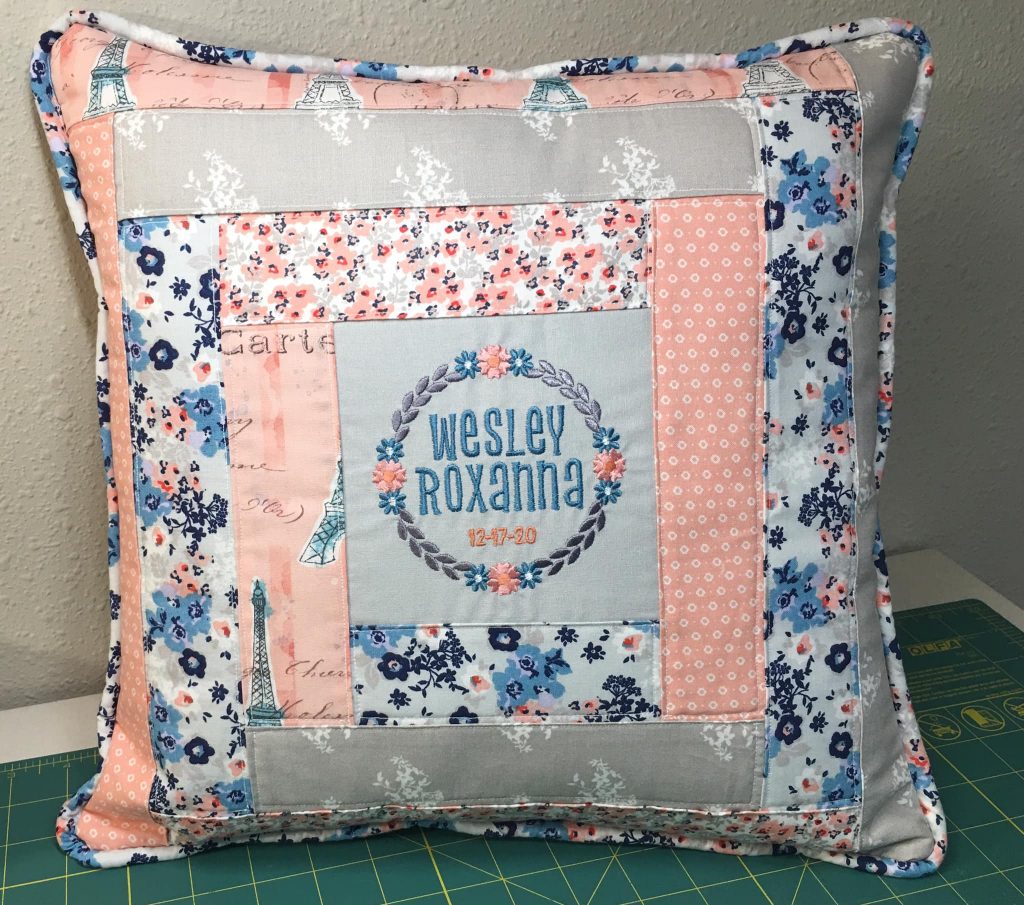 How gorgeous is this pillow Sheryl created as a baby gift? Sheryl wanted to create a gift that was more timeless and less traditional, so she opted to not use any baby pink colors in this pillow. Instead, she used a combination of peach, blue, and gray patterned fabrics. For the center, she did a lovely job embroidering one of the designs from our Circle Flower Wreaths set around the name of the baby. Plus, she even made sure to match the thread colors in the wreath to the rest of the colors in the pillow. Even without the traditional baby colors, this pillow still looks delicate and can be displayed for years to come!
---
Quilt by Barbara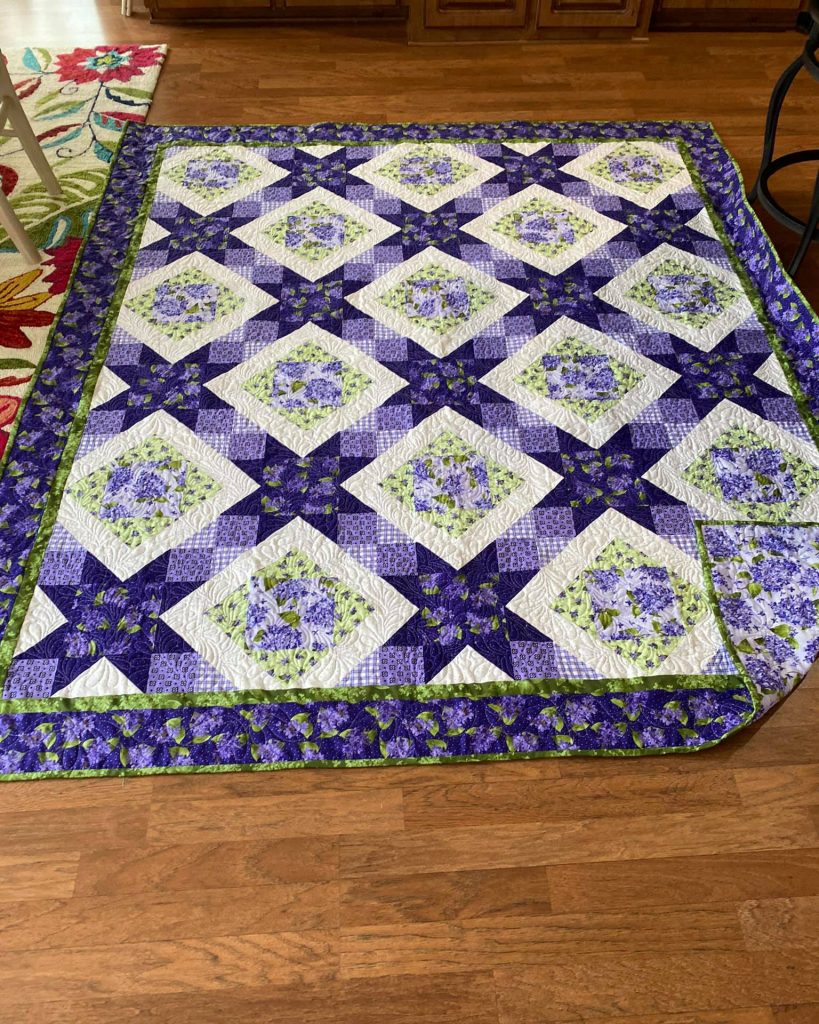 We absolutely love this quilt that Barbara created! This is quite a large quilt, so we can only imagine how much hard work went into making this. Barbara did an incredible job picking out the purple and green patterned fabrics that she used throughout the quilt. Our favorite part about this project is that Barbara stitched out our Feathers 1 End-to-End Quilting Embroidery Design to create an extra level of beauty in this quilt. We how this End-to-End Quilting Design goes along so well with the rest of the fabric patterns she used. Thanks for sharing, Barbara!
---
Pillow by Susan
Next up is this beautiful pillow that Susan made as a birthday gift for one of her friends! Susan created this decorative pillow to help her friend welcome everyone who enters her home. We love how she embroidered one of the designs from our Happy Home Word Art set onto the front of the pillow. This design stitched out wonderfully and we love all of the colors she chose. We hope your friend loves this pillow as much as we do, Susan!
---
Quilt by Robin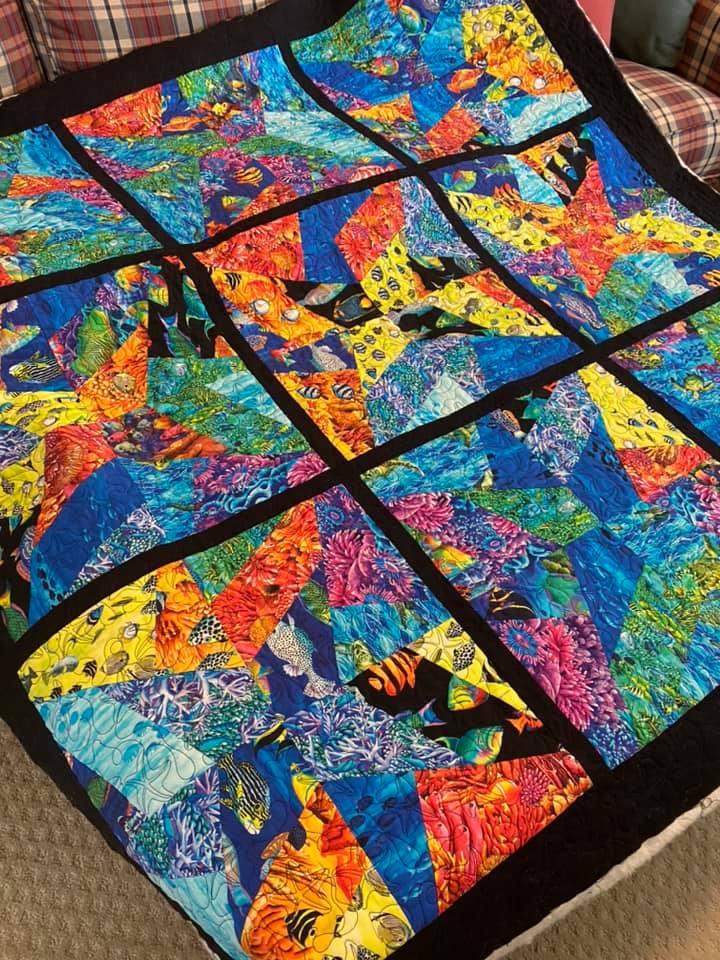 The last project we have to feature is this amazing quilt that Robin created as a gift for her grandchildren! She wanted to make a quilt for her grandchildren to use at her beach house this summer, so she made this massive ocean-themed 60x60 quilt. To add to the ocean-theme for this quilt, Robin decided to stitch out our Starfish End-to-End Quilting Embroidery Design using her 5x7 magnetic hoop. After 120 hoopings, we think this quilt tuned out to be a beautifully created and thoughtful gift.
---
Send us your Projects
We can't wait to see what you've been working on. If you have a recent project you are proud of, please send us a picture or two! To submit projects for our showcase, or if you have any questions, please email:
[email protected]
.
Want more JuJu Inspiration?
Check out more Customer Projects blog posts 
HERE
Want The Sets You Saw?
Circle Flower Wreaths
Feathers 1 End-to-End Quilting Embroidery Design
Happy Home Word Art
Starfish End-to-End Quilting Embroidery Design