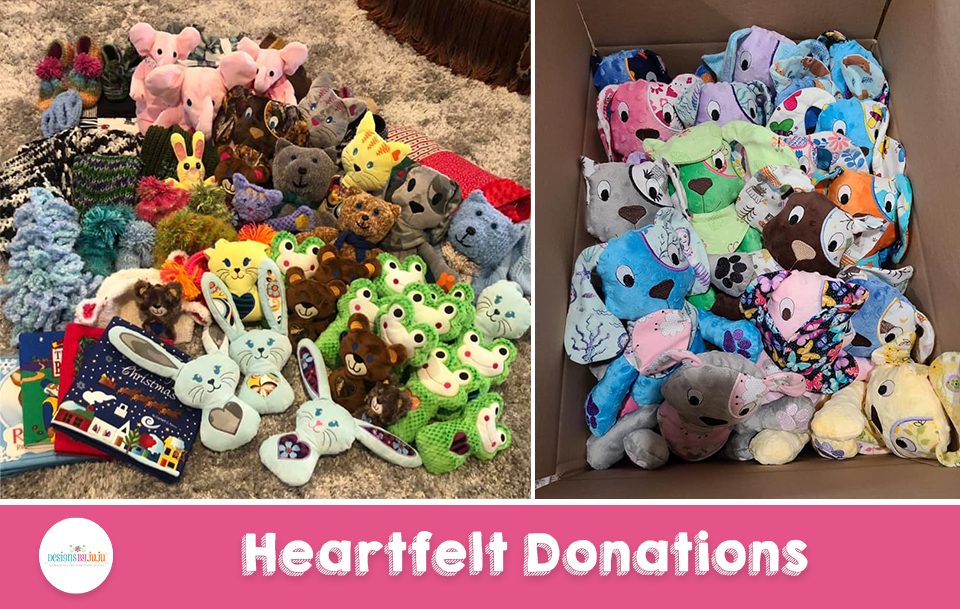 We cannot begin to tell you all how happy it makes us to see our customers creating heartfelt donations using our designs! We've seen so many wonderful donations from our customers recently, so we decided to showcase some recent pieces that might give you some inspiration for your own donation projects. Take a peek at some of our recent favorites…
Stuffed Animals by Donna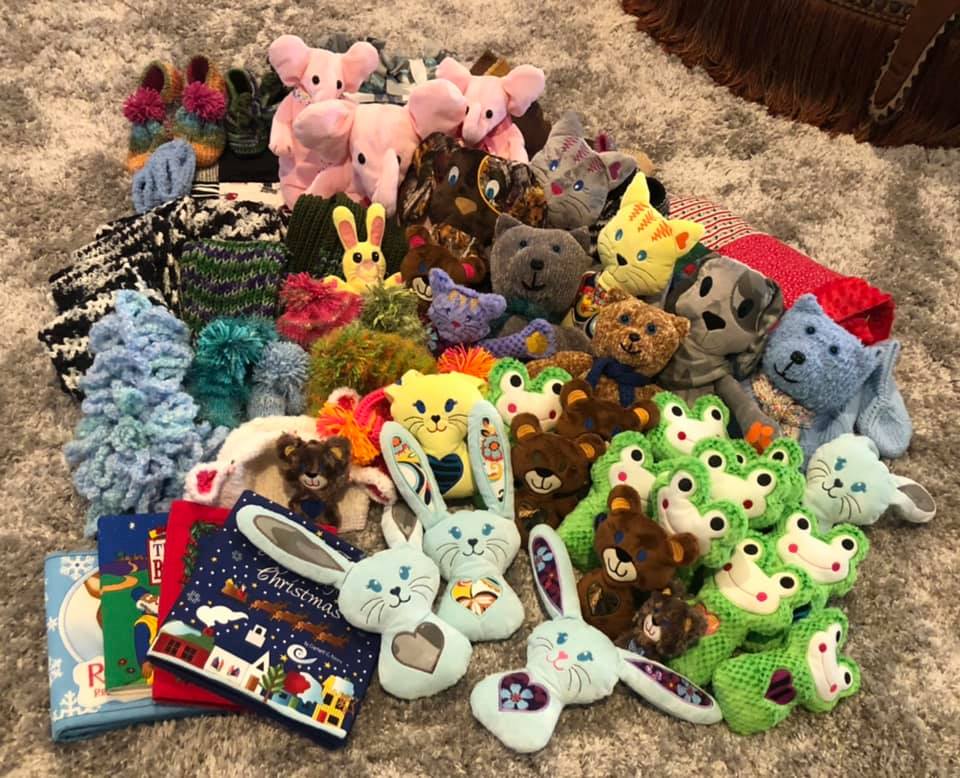 How precious are all of these stuffed animals Donna made as a donation to her local Children's Hospital?? This photo absolutely warmed our hearts the second we saw it! Donna used a variety of our In The Hoop designs to make these wonderful gifts to spread a little joy at the hospital. We absolutely love how she used a variety of colors, patterns, and fabrics to make each animal a little different from the next. Thanks for sharing this with us, Donna!
Designs Used: In The Hoop Bonnie Bunny, Cute Cat Softie In The Hoop, Cute Dog Softie, Lily The Frog, Betty Bear Lolly Dolly
---
Fabric Baskets by Laura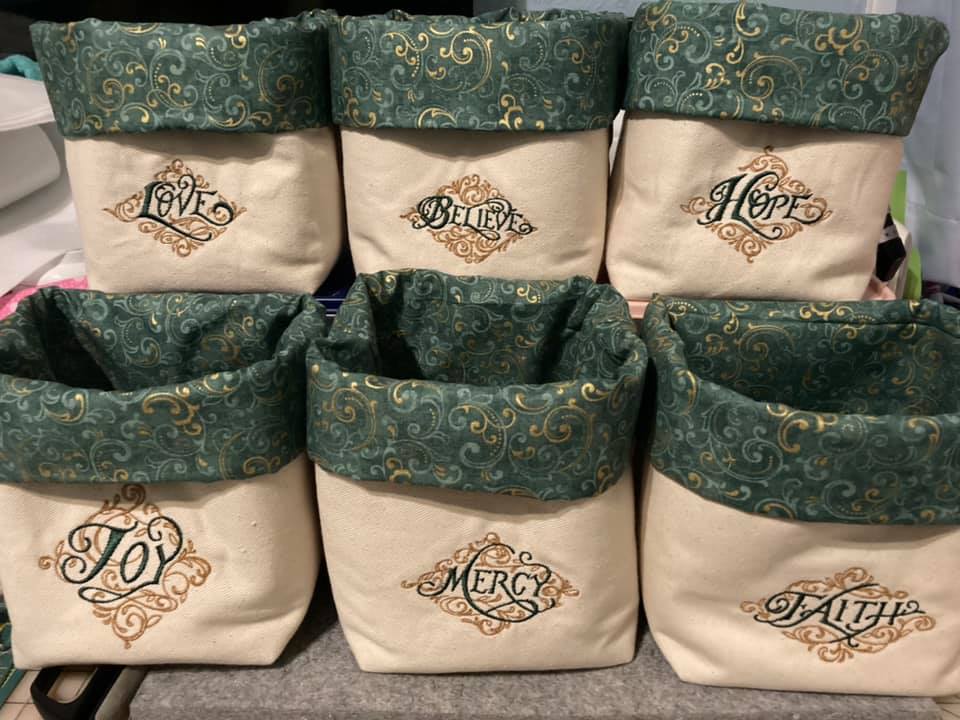 These fabric baskets from Laura are almost too gorgeous! She made these for a Christmas giving project and we couldn't think of a more wonderful donation. We love how she used dark green and gold fabric for our Ornamental Blessings designs to match with the fabric inside the basket. Plus, the patterns of the fabric match the designs from our Ornamental Blessings set! Wonderful job, Laura.
---
Cute Dog Softies by Diana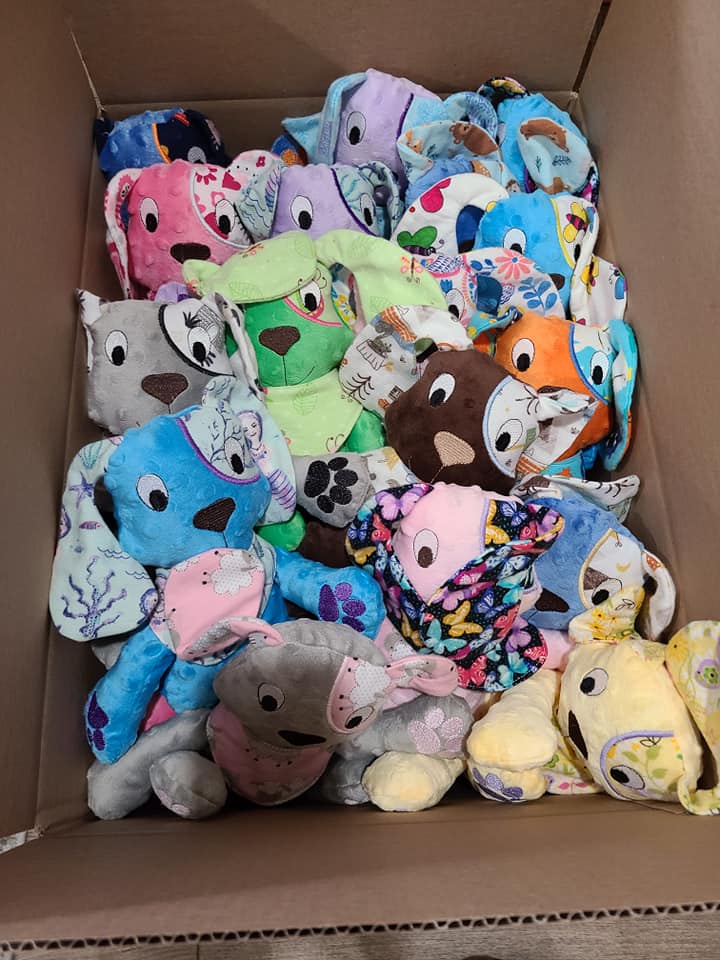 We couldn't stop smiling when we saw this project from Diana! She made 37 different Cute Dog Softies to donate to the Pediatric Subacute Ward of her local hospital. Our favorite part about this project was Diana's decision to use a variety of different colors and patterns to make each Softie truly unique. We know how much time & effort must have gone into creating these Softies and we hope the children loved them just as much as we did!
---
Send us your Projects
We can't wait to see what you've been working on. If you have a recent project you are proud of, please send us a picture or two! To submit projects for our showcase, or if you have any questions, please email:
[email protected]
.
Want more JuJu Inspiration?
Check out more Customer Projects blog posts 
HERE
Want The Sets You Saw?
In The Hoop Bonnie Bunny
Cute Cat Softie In The Hoop
Cute Dog Softie
Lily The Frog
Betty Bear Lolly Dolly
Ornamental Blessings