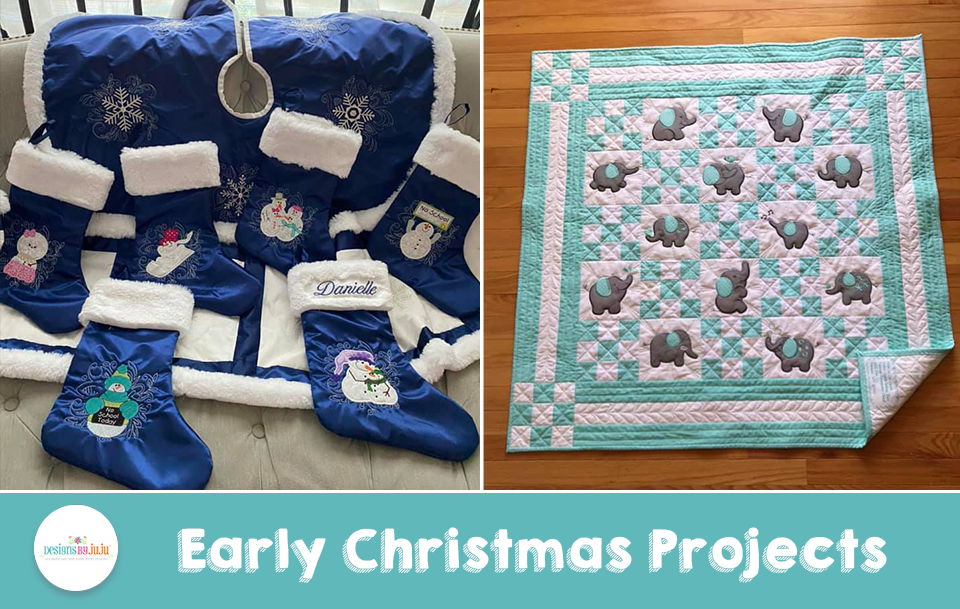 Spending more time at home means everybody has the perfect opportunity to get a head start on their Christmas projects! We've seen so many incredible projects from our customers recently that we decided to showcase some recent pieces that we think would make great Christmas gifts. Hopefully, these photos spark some inspiration for your next projects!
Christmas Pieces by Valerie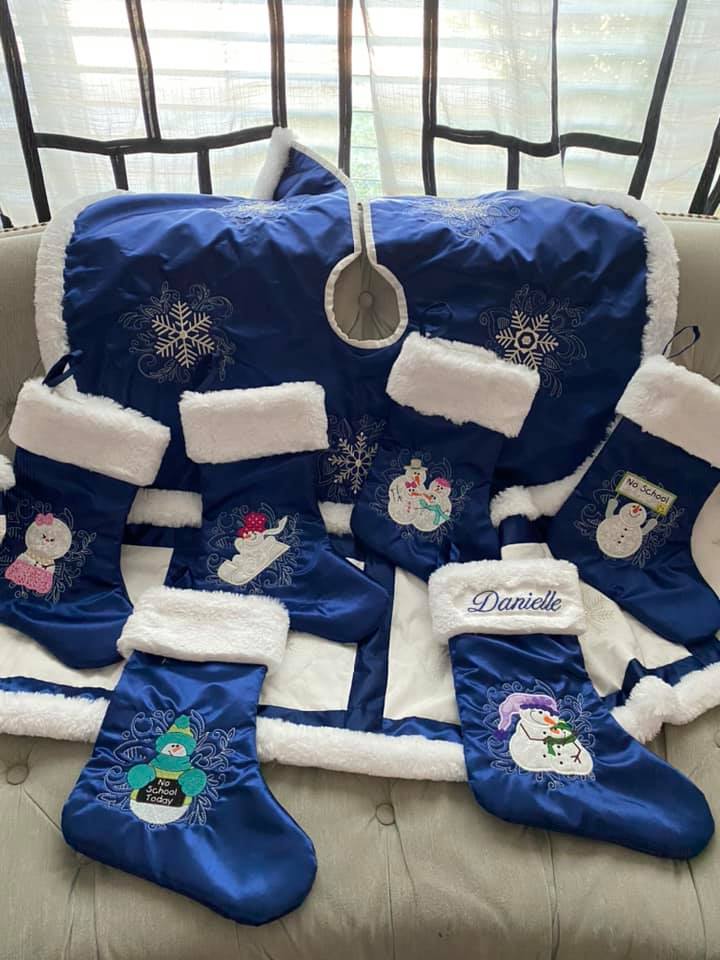 We cannot get over how beautiful these Christmas pieces are! Valerie used a variety of our appliques and motifs to create a wonderfully personalized set including stockings and a tree skirt. Imagine your kids or grandchildren waking up Christmas morning to see these hanging on the mantle for them! Great job, Valerie! Designs used: Sweet Snowmen Applique, Brrrrr!-Cute Snowmen, Snowmen Applique, Simply Snowmen Applique, and Snowflake Motifs
---
Roly Poly Elephant Quilt by Jan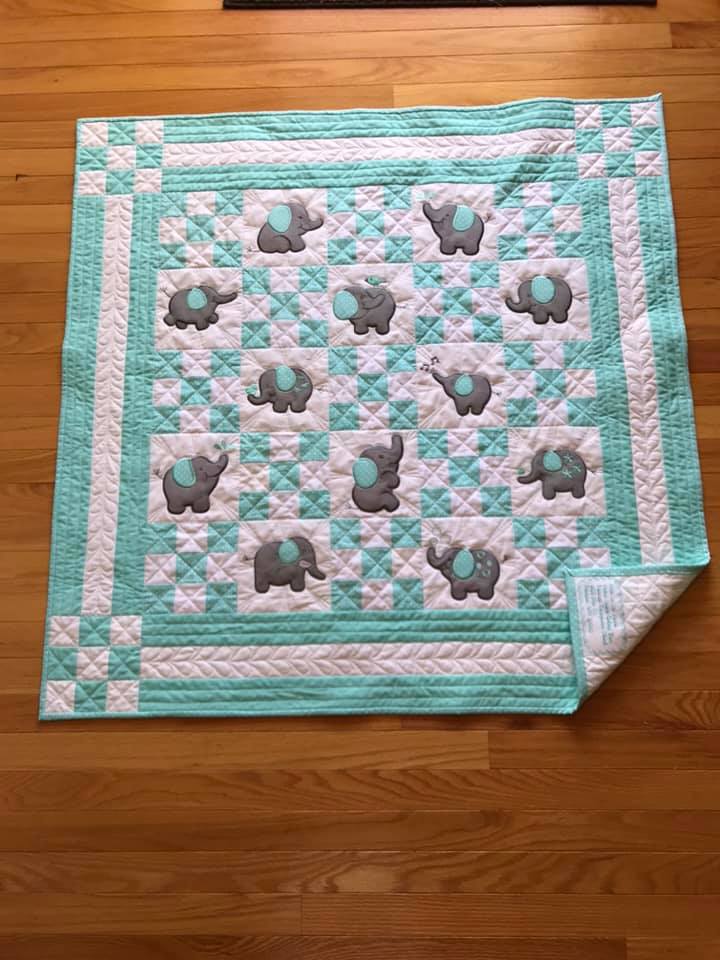 Our eyes lit up the moment we saw this beautiful elephant quilt! Jan did such an incredible job using our customer-favorite Roly Poly Elephants Applique to create the perfect accent for this quilt.  We love her color choices, the teal and grey go so well together! Beautiful job, Jan!
---
Pillow by Roberta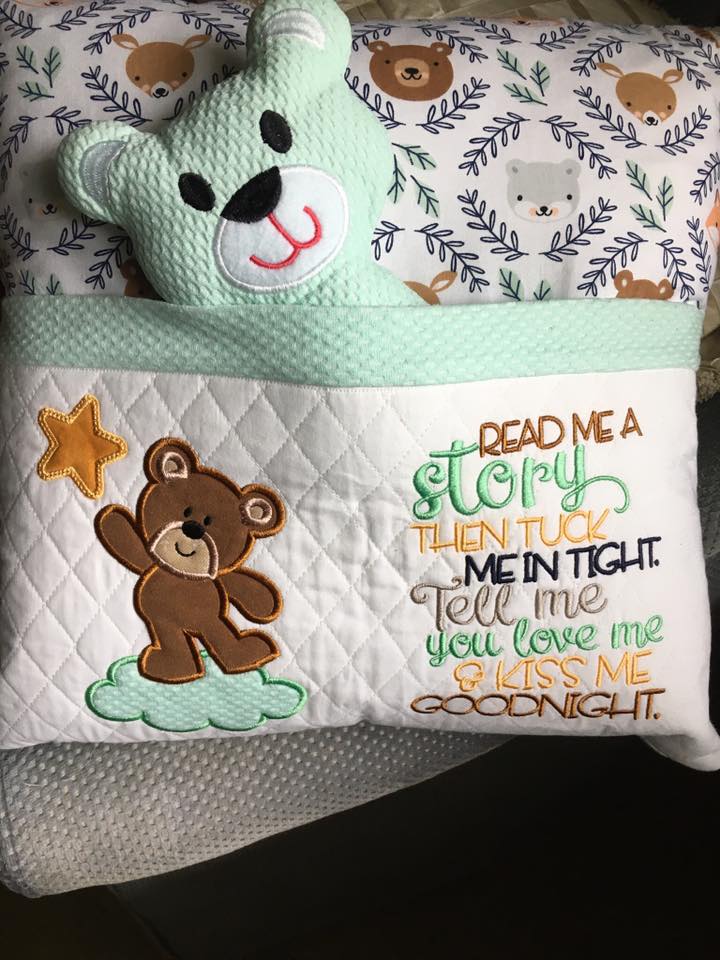 How adorable is this Reading Pillow that Roberta made using our Sleepy Time Critters Applique Set 2 and our Reading Word Art Set 2?? A project like this would make the perfect gift for a little one who needs a new favorite pillow! We love how well the colors in the word designs match the colors in the fabric. Amazing job, Roberta! ?
---
Send us your Projects
We can't wait to see what you've been working on. If you have a recent project you are proud of, please send us a picture or two! To submit projects for our showcase, or if you have any questions, please email: [email protected].
Want more JuJu Inspiration?
Check out more Customer Projects blog posts HERE
Want The Sets You Saw?
Sweet Snowmen Applique
Brrrrr!-Cute Snowmen
Snowmen Applique
Simply Snowmen Applique
Snowflake Motifs
Roly Poly Elephants Applique
Sleepy Time Critters Applique Set 2
Reading Word Art Set 2