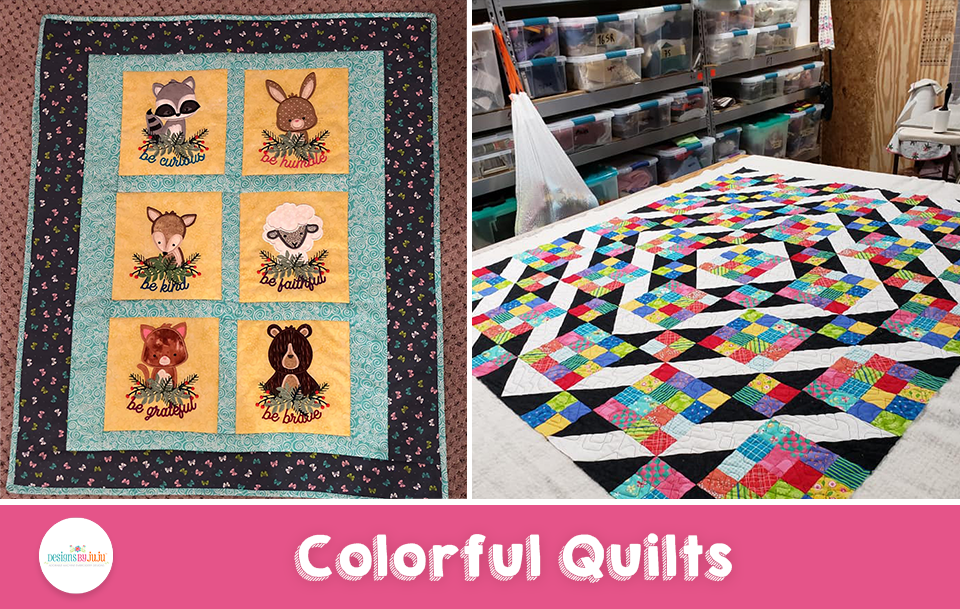 Need some inspiration for a bright and colorful quilt project? We got you covered! We've seen so many colorful quilt projects recently in our Embroidery Blessings Facebook Group that we had to put together a blog post to share a few of our favorites. Read on to see a few projects that might give you some ideas for your own quilt projects…
Quilt by Mary Beth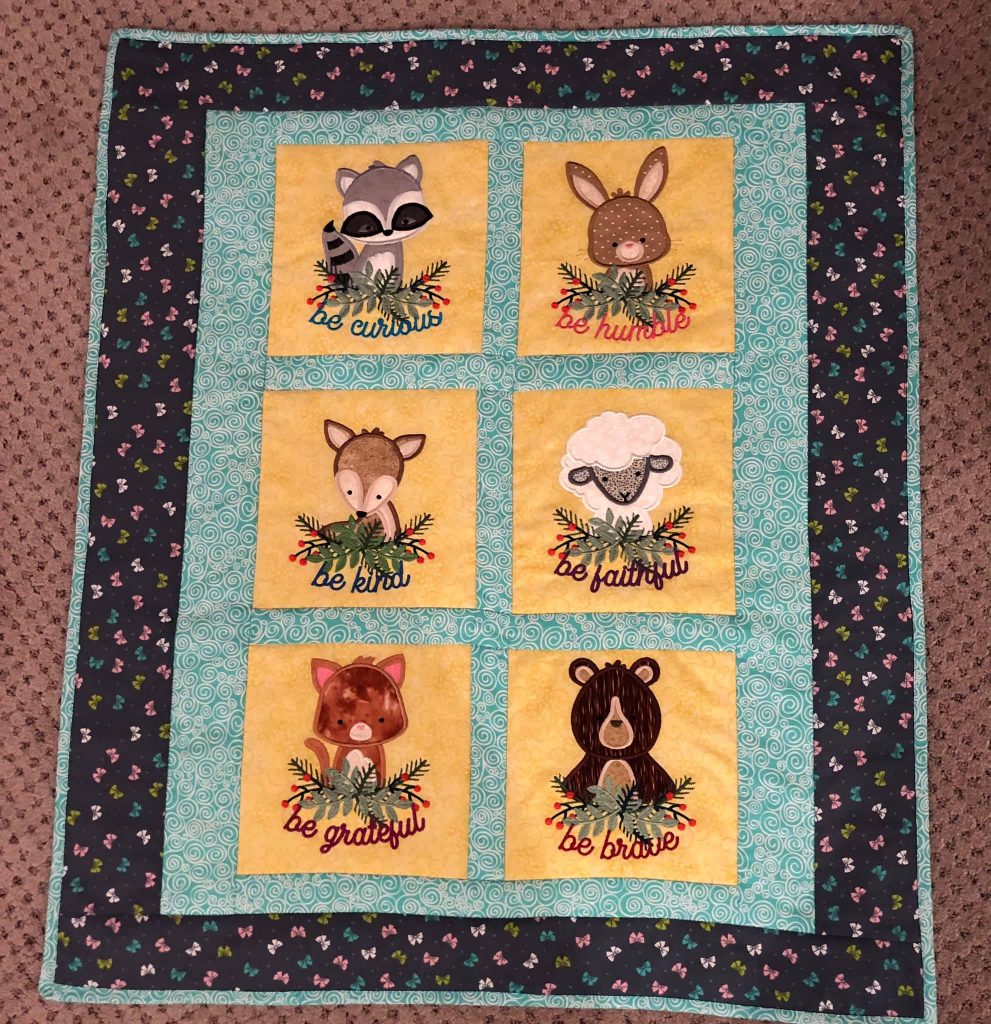 How stinking cute is this quilt Mary Beth made?? This quilt is filled with so many wonderful colors and patterns. We love the teal patterned fabric she used behind the yellow quilt blocks! Not to mention, the adorable butterfly-patterned fabric she used as a border for the quilt. And we haven't even gotten to the best part yet! Each quilt block includes a design from our Be Kind Critters set. They stitched out so beautifully! Wonderful work, Mary Beth.
---
Quilt by Shelley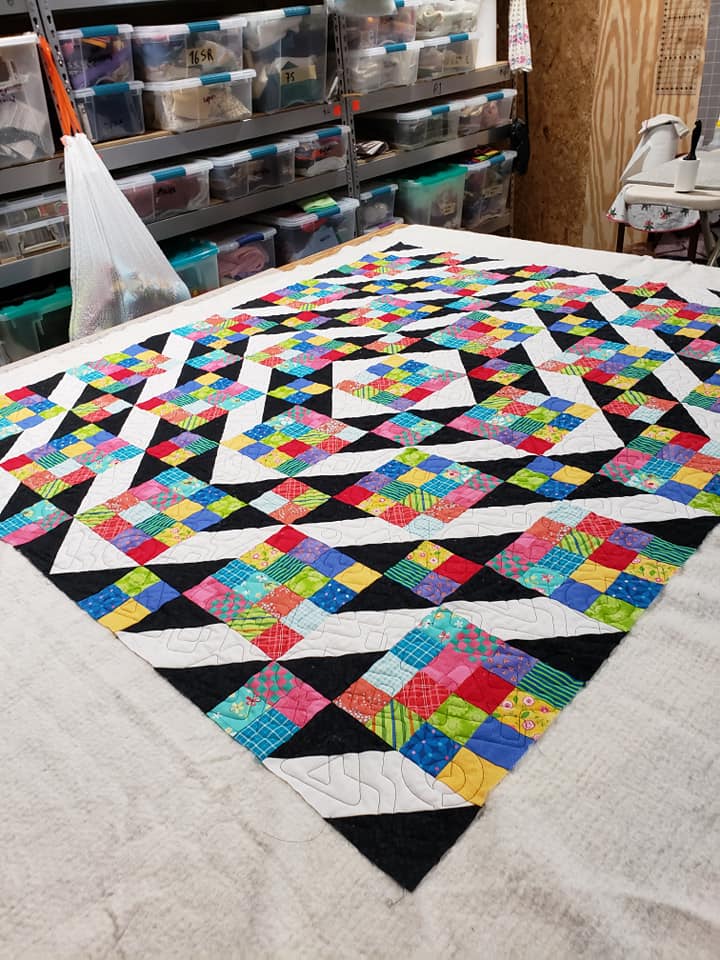 Would you believe us if we told you that Shelley finished quilting this 56x64 quilt in just one day?? She ended up with a total of 35 hoopings with her 9x14 hoop. Wow! We love all of the wonderful colors and patterns she used for each quilt block. They stand out beautifully against the white and black fabrics behind them. To top it all off, Shelley embroidered our Alchemy End-to-End Quilting Design across the entire quilt. Amazing! Thanks for sharing, Shelley.
---
Quilt by Susie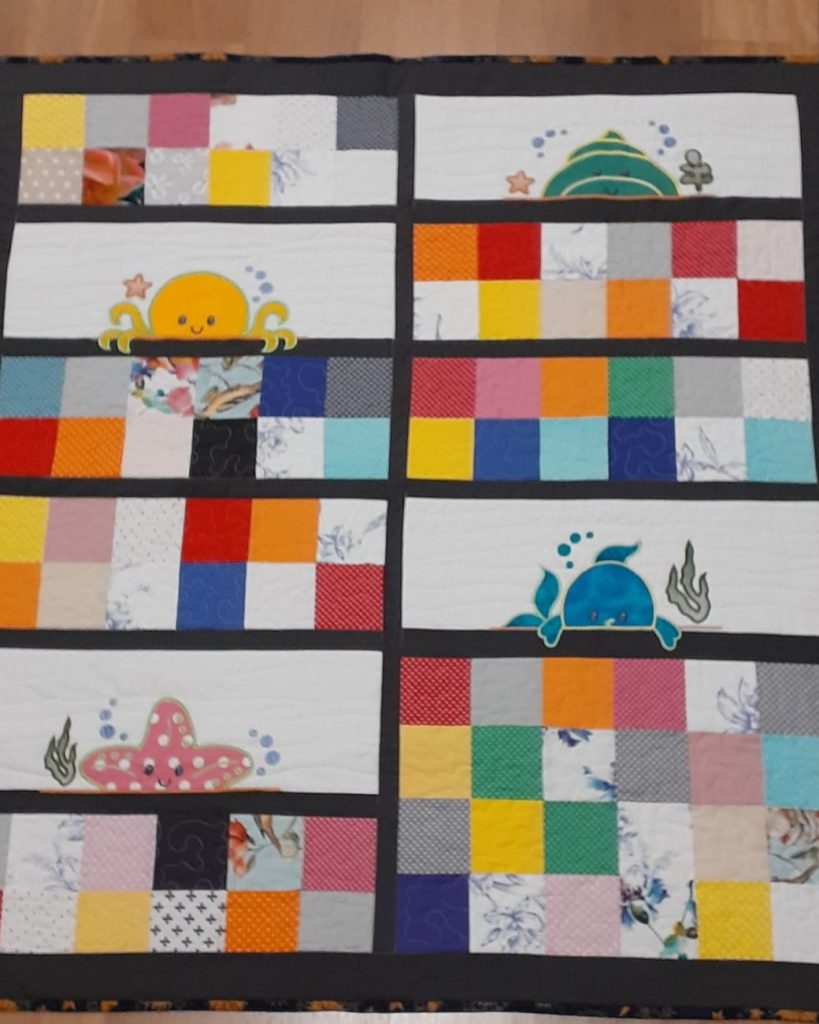 This quilt Susie made for charity is simply too cute! We love all of the bright colors & patterns she used throughout this project. Our favorite part about this project is the fact that she stitched out 4 of the designs from our Beach Peekers set onto the quilt as well. We love our Peeker designs because they add such a fun and adorable touch to any project. Susie has more quilts with Peeker designs on the way and we can't wait to see what she makes next!
---
Send us your Projects
We can't wait to see what you've been working on. If you have a recent project you are proud of, please send us a picture or two! To submit projects for our showcase, or if you have any questions, please email:
[email protected]
.
Want more JuJu Inspiration?
Check out more Customer Projects blog posts 
HERE
Want The Sets You Saw?
Be Kind Critters
Alchemy End-to-End Quilting Design
Beach Peekers