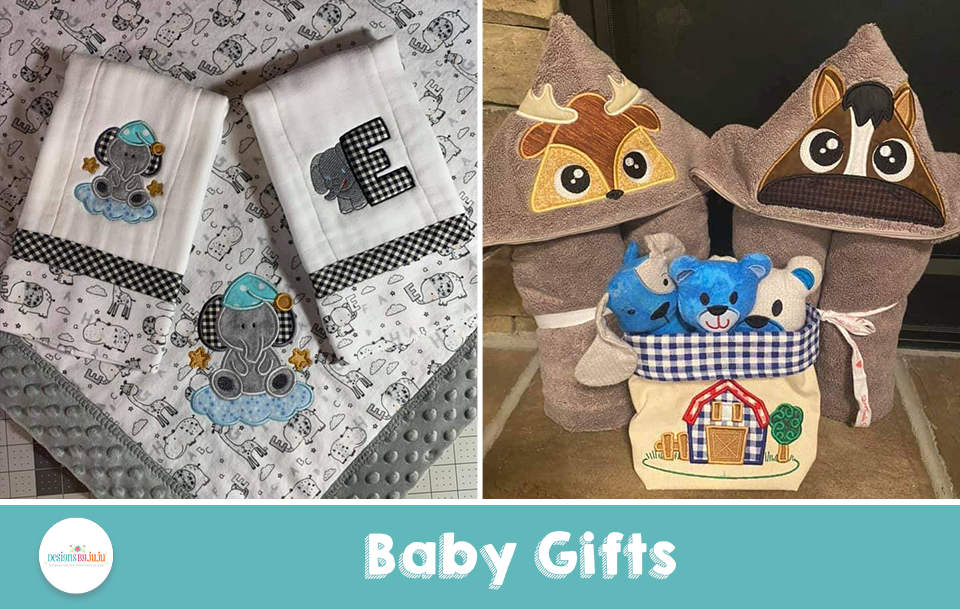 Looking for some inspiration for fun projects to make for a new baby in the family?? We put this blog together just for you! Our customers have been sharing SO many adorable blankets, stuffed animals, quilts, & more that they create for the little ones in their lives, so we wanted to highlight a few of our recent favorites to hopefully inspire your next baby gift project. 
Towels & Quilt by Libia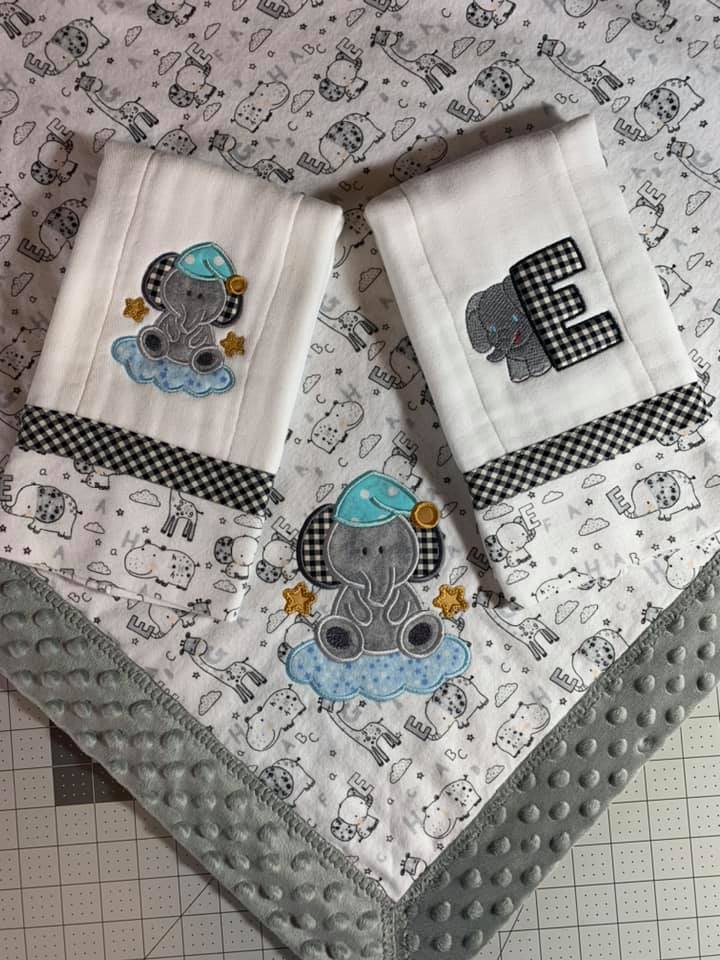 These pieces are simply too adorable! Libia used our 
Sleepy Time Critters Applique Set 2
& 
Cute Critters Alphabet
 sets to create these precious burp cloths & matching blanket to go along with them. We love the different fabric patterns that Libia chose to use throughout these designs. So creative! Plus, the elephant in our 
Cute Critters Alphabe
t goes along perfectly with the elephants in the fabric she used for the burp cloths and blanket. These tuned out beautifully, Libia!
---
Hooded Towels, Cute Dog Softie, Betty Bear Lolly Dolly, & Toy Bag by Kathy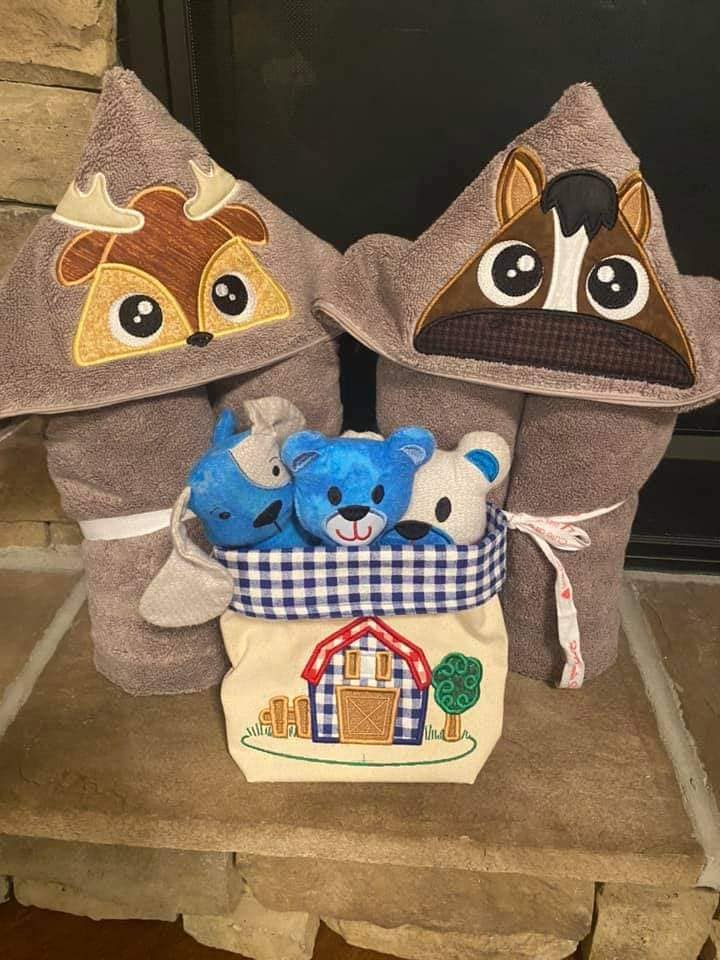 CUTENESS OVERLOAD!! We were so happy the second we saw these baby gifts from Kathy that used so many of our applique & In The Hoop designs! She created these precious Hooded Towels using our 
Peeker Animals 3
 & 
Peeker Animals 4
 sets. She even used our 
Cute Dog Softie
 & 
Betty Bear Lolly Dolly
 designs to make stuffed animals to place in a toy bag that she created using our 
Sweet Farm Applique
. Incredible job, Kathy!
---
Quilt by Jenny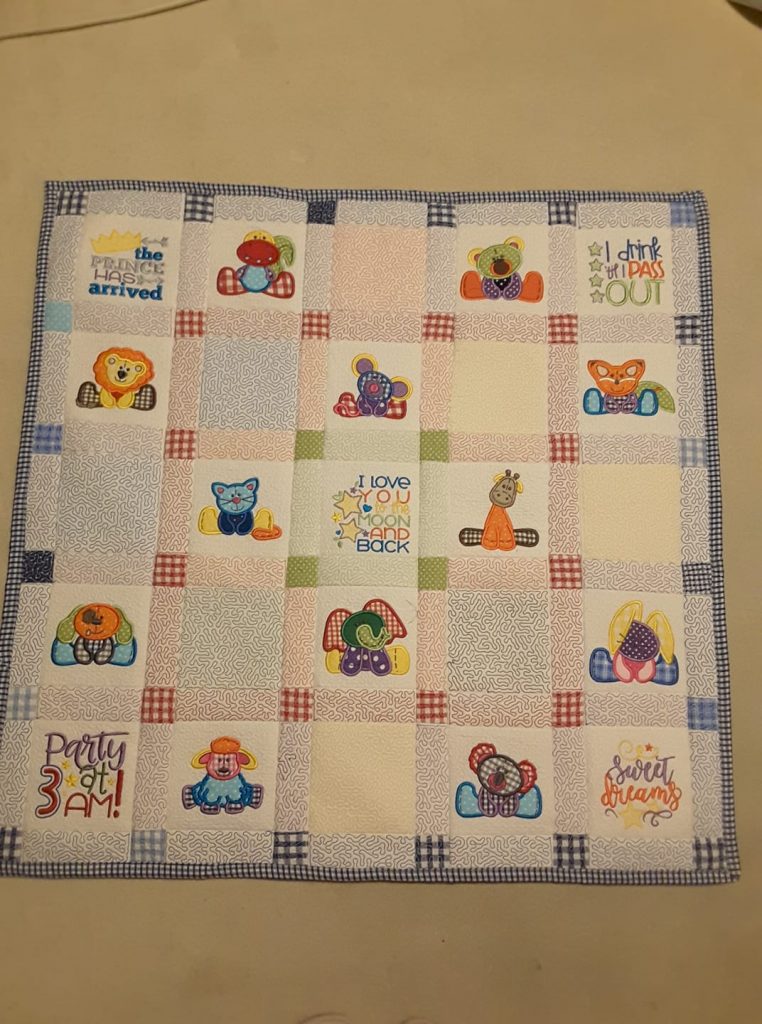 Who else loves this adorable quilt just as much as we do?? Jenny created this baby quilt for her great-nephew using our Stuffed Animals Applique and Quilt Blocks, Baby Blessings 6, Baby Blessings 7,  & Baby Blessings 8. We love all of the different colors and patterns that she used, they really give this quilt a wonderful, one-of-a-kind look. We think your great-nephew is going to love this, Peggy!
---
Send us your Projects
We can't wait to see what you've been working on. If you have a recent project you are proud of, please send us a picture or two! To submit projects for our showcase, or if you have any questions, please email:
[email protected]
.
Want more JuJu Inspiration?
Check out more Customer Projects blog posts 
HERE
Want The Sets You Saw?
Sleepy Time Critters Applique Set 2
Cute Critters Alphabet
Peeker Animals 3
Peeker Animals 4
Cute Dog Softie
Betty Bear Lolly Dolly
Sweet Farm Applique
Stuffed Animals Applique and Quilt Blocks
Baby Blessings 6
Baby Blessings 7
Baby Blessings 8