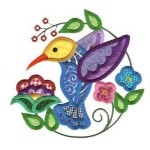 Much like a paint palette, digitizers use certain thread libraries when creating embroidery designs. Some are chosen because of the thread brand. Others are chosen as a default in the digitizing program that created them. Either way, thread stitch out charts are not necessarily like paint-by-number boards; you may choose another color if it is more to your liking or matches your fabric better.
In this design from the Jacobean
Hummingbirds Applique
 collection, the image on the left shows the digitized colors. At right, the stitched design uses somewhat different thread colors. For the most part, thread colors used in applique should match the fabric. Thread color changes are added to applique embroidery designs to allow the machine to stop so fabric can be trimmed between sections. The purple fabric in the finished hummingbird wing would not look right if satin stitching was kept as the peach color digitized. Red checked material in the flower would not look right if it were satin stitched in pink as originally digitized. Greens in the finished design match the leaf fabric much better than the digitized version and the hummingbird body looks great when satin stitched the same color on both body and tail. If you want to make every applique satin stitch a different color, you can. If you want to create more of a traditional white work heirloom look, just stitch everything in white or ivory and use the same white or ivory fabric, or tonal variations, throughout the applique. Great digitizers, like Julie from Designs by JuJu, provide color charts as a reference and include color stops so that stitchers can make embroidery projects their own. Choose your fabric and match the thread. Use different thread colors as desired or keep them as shown, the choice is up to you!